Introducing Shopify B2B
Shopify B2B is a group of features for Shopify Plus merchants that enable online business-to-business (B2B) selling through the store. The Shopify B2B features are native to the platform and don't require third-party apps or services. The new tools support crucial B2B features like company-specific price lists, payment terms, currencies and company locations. It's the ultimate wholesale selling platform that merchants have been waiting for.
Our B2B ecommerce development team works directly with many merchants who require enterprise-level B2B capabilities. We are excited to roll out the new services for many of our Shopify Plus clients.
During a recent implementation, we recorded the process to create this handy YouTube tutorial about the basic features to help merchants navigate the setup and deployment of B2B selling. Part one covers the first steps of a B2B configuration including creating companies, assigning price lists and setting the payment terms for customers. Check it out:
Shopify B2B Tutorial - Using the B2B features with your Shopify Plus store
Shopify B2B Tutorial - Part 1
B2B commerce is an essential tool for merchants in today's digital world. It provides businesses with the ability to easily purchase goods and services from other businesses (hence B2B.) It also allows merchants to easily manage business relationships, create personalized experiences, and provide better customer service. It wasn't always easy to simultaneously manage a B2C and B2B store. Shopify previously provided some channel apps to help with the process.
For those of you old-school Shopify users, you may remember the Wholesale Channel app. This was Shopify's longtime solution for B2B sales. That app left something to be desired and never quite satisfied clients. Luckily, Shopify had something up their sleeve and the new B2B features were born for Shopify Plus merchants. Using the B2B tools, you can set customer-specific price lists, payment terms, and currencies and connect multiple buyers and locations in a single company profile. It's a great new solution and comes highly recommended by our web integration team.

At the heart of B2B is maintaining relationships with other companies. In a business environment, this list of companies is critical to your business as it often represents larger orders and pending payments. It's important to easily manage the workflow for each B2B company. "Companies" in Shopify represents a business that you sell to with B2B. Companies can have multiple locations, each with separate price lists, payment terms, checkout options, and shipping addresses. When a B2B customer logs in to your store, they choose the location that they're purchasing for and are offered the prices, payment terms and checkout that you assigned to that company location. The Companies section allows you to do the following:
Manage contact details

Assign price lists

Assign payment terms

Set the shipping address

Tax ID

Tax exemptions
Each company will have associated customer accounts that access the specific business orders and details for that company. The new B2B customer accounts let each member manage their account, view orders and access the company page in the merchant store. The new accounts require a six-digit code sent to the user's inbox.

Custom Price Lists
Your B2B companies want custom pricing to ensure the best margins for their business. Custom pricing allows customers to get a cost that meets their wholesale and reselling needs. Wholesale B2B sales is a great avenue for your business to increase sales, reduce costs, and gain new customers. It also helps your business reach new markets via relationships with other businesses. You can leverage the visibility and credibility of partners who sell your merchandise across various marketplaces.
In the Shopify B2B system, a Price List is custom pricing that you offer to any company in your store. B2B customers love getting special pricing as it helps them negotiate better deals and discounts with the merchant including bulk discounts. There's no limit to the number of price lists a store can create in Shopify however, each company can only have a maximum of 25 price lists per location.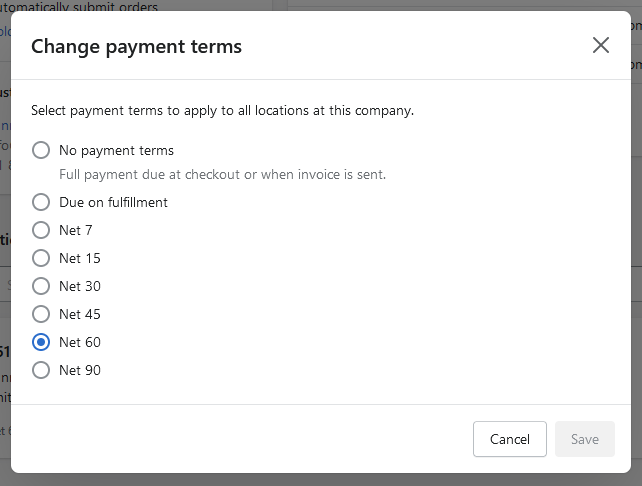 Payment Terms
Giving another company payment terms on wholesale orders is beneficial for both businesses. It helps the purchaser manage their cash flow and budget, while also providing the seller with a steady stream of income. Additionally, offering payment terms builds trust and loyalty between the two companies, which leads to a stronger business relationship.
B2B customers need payment flexibility like payment terms. Typically, offering terms leads to additional merchant headaches and paperwork. Thankfully, in Shopify B2B, you can set the length of time that a company must pay for the B2B order they placed on your store. These new B2B features take the guesswork out of managing the different company settings and terms. You can automatically track, sort, and collect payments as they become due.
Configuring B2B for Your Company
B2B selling involves complex sales cycles, long decision-making processes, and multiple stakeholders. You need to build relationships with key decision makers. Because of this, setting up a B2B business channel can be a complex process for any merchant. Without a comprehensive pricing strategy, a well-defined sales process, and a reliable customer service system, you may find yourself in financial confusion. It's not easy to setup a B2B store on your own.
Although B2B sales can be tricky, they're often more lucrative for a company. B2B sales tend to be larger in value, making them more important to the seller.
If your business is conducting B2B sales, then you need to an experienced development partner to make the complex processes easier to navigate. Let our Shopify Experts work their magic and help get your B2B sales channel up and running!