We're a Top 5 B2B Service Provider in Los Angeles!
The leading B2B review and rating website, Clutch, announced its list of the best service providers in Los Angeles for 2022 and Sunrise Integration is recognized as one of the top firms. Throughout the year, Clutch highlights its highest-ranking firms across a variety of industries and locations. The Clutch Leader Awards recognize companies' commitment to building their expertise, customer service, and producing high-quality results for clients.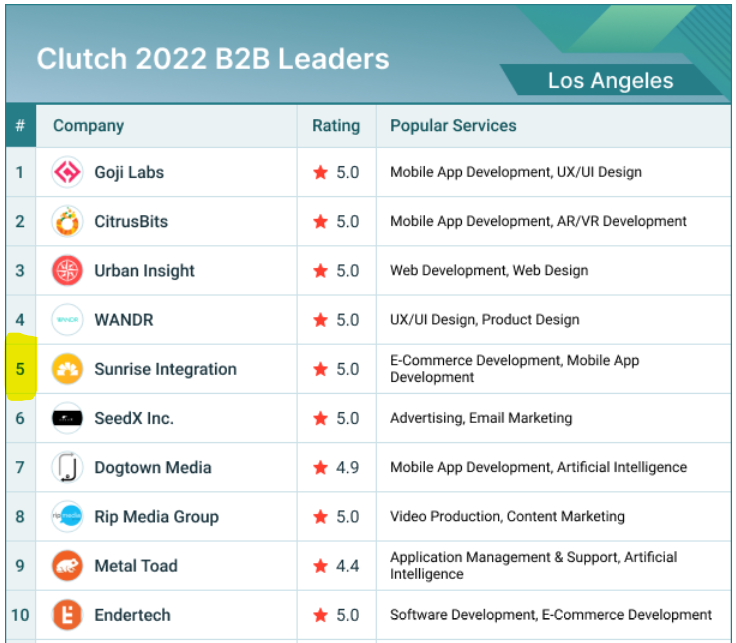 B2B services require a unique understanding of business requirements and sales processes. Sunrise Integration understands the importance of B2B commerce and has been supporting companies for over 22 years. The SaaS and development space for B2B services is a unique focus for Sunrise Integration as we help new start-ups and established brands grow their business.
"We're proud of the growing tech scene in Los Angeles and honored to be recognized as one of the city's leading tech firms. We're excited to continue servicing clients from around the world and supporting start-ups in our hometown."
– Dean, CTO Sunrise Integration
About Clutch
Clutch is the leading ratings and reviews platform for IT, marketing, and business service providers. Each month, over half a million buyers and sellers use the Clutch platform.
Your B2B Tech Leader in Los Angeles
Are you looking for a trusted B2B partner for your business? We've got your back. Our expert team will analyze your requirements and ensure your business needs are met.