You could spend days agonizing over the finer details of your ecommerce website. Perhaps your navigation is confusing on mobile devices and it's time to hire a contractor to replace it. Have you optimized critical pages to create the best possible user experience? Or maybe your site is slower than the industry average and you need to figure out what's bogging it down. 
These are really important things to determine about your website. But design and site speed are just two components of what's known as conversion rate optimization (CRO). 
Conversion rate optimization means a lot of things to a lot of different people, especially across the ecommerce landscape. But in our opinion, there are several things you should think through and prioritize before building a CRO strategy, which we'll break down across three key categories. But first, the basics. 
What is CRO?

OK, let's start with a definition of conversion rate optimization. 
Our friends at Hotjar explained that CRO is the practice of increasing the percentage of users who perform a desired action on a website. These actions might include purchasing a product, adding something to a cart, subscribing to email or SMS marketing, filling out a form, or something as simple as clicking a link. 
Your CRO strategy should also account for the variety of devices that customers use to visit your website. In addition to optimizing for traditional desktop browser sites, it's important to think about how you'll approach CRO for mobile phones. For some ecommerce stores, the mobile experience is more important because 80% of their traffic is coming from mobile users!
What is a good conversion rate?
Spoiler alert: There's no industry standard. 
When it comes to cart conversions CRO, some marketing folks will tell you that anything between 1 to 4% is worth celebrating. But that lacks a lot of nuances. For starters, each page has unique goals. Your checkout page is all about completed sales, but other pages across your site have different definitions of the word "conversion."
Rather than aiming for industry benchmarks (because, again, they don't exist), think more deeply about what matters to your users. How do they want to interact with your ecommerce website, and what would motivate them to engage with it? 
Understanding your historical data, if available, is a great place to start. Google Analytics and your commerce platform dashboard are great tools for setting baselines and goals. Mapping key metrics on an annual timeline will highlight seasonal impact and help you stay on track with your CRO plan throughout the year.
Let's say that you've seen an average abandoned cart rate of 3% over the last two quarters. Although you know it'll never be 0%, set an achievable goal for decreasing that rate and use that Key Performance Indicator (KPI) to influence your CRO strategy. 
Where should you implement your CRO strategy?
When it comes to developing your CRO strategy, the world appears to be your oyster from the onset. You should just implement it everywhere, right? Eventually, yes. But it's equally important not to overwhelm yourself at the beginning. 
Should you focus on mobile CRO first? Research suggests the answer is an emphatic yes. Up to 80% of consumer traffic is now via mobile devices, which makes it the proverbial low-hanging fruit for ROI.
With that in mind, the next step is to take a look at your ecommerce funnel and figure out how to optimize it in order to create a great user experience, attract new and repeat customers, as well as boost your bottom line.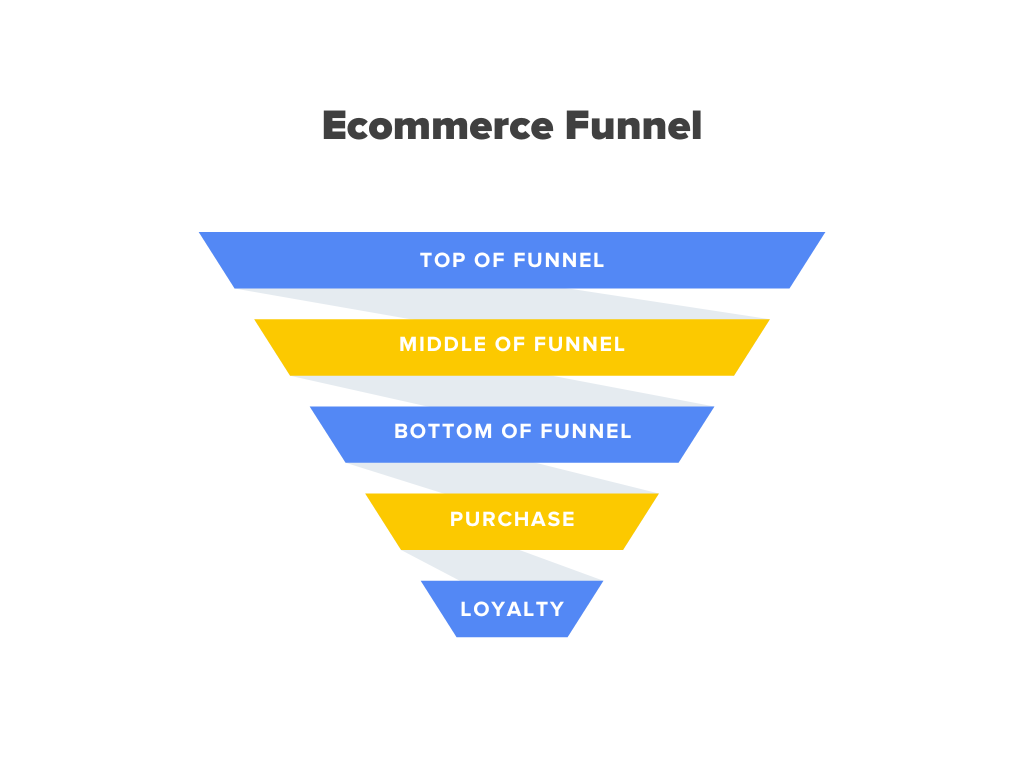 Top of Funnel: Potential customers are doing research on brands; they're not yet interested in buying
Middle of Funnel: These potential customers have interacted with your brand, such as seen an ad or visited your store at least once. 
Bottom of Funnel: Now that these potential customers have decided that they like your brand best, they're almost ready to buy.
Purchase: These potential customers are now your customers because they've made a purchase.
Loyalty: The work isn't done after purchase; you should implement tactics post-purchase to encourage your customers to stick with you for the long-term.
Home Page (or Promotional Landing Page)
The gateway to, well, just about everything else on your ecommerce site. It's critical to ensure that your homepage is easy for customers to use, has clear calls-to-action to the pages they're looking for and is snappy across all internet browsers. 
Product Listing Page (PLP)
All customers want from your product listing page is, well, information about your products, right? Of course not. Make sure the navigation to your product details and calls-to-action are easy to find and give users a clear path to the product detail page, or have the opportunity to add to cart directly from the PLP.
Product Detail Page (PDP)
This is arguably the most important page in your CRO strategy because this page presents the most buying options for that product along with specific product information. There are several aspects that should be included and optimized on this page–not all items will be applicable–including the product description, photos and media, reviews and social proof, add to cart button, subscribe and save option, FAQs, product bundling, augmented reality and wear preview and more.  
Blog
Blogs don't exist solely to give away valuable information to your customers. Make sure that every page on your blog enables customers to learn more about your company, schedule a demo, or easily navigate to other relevant pages of your site.
Promotional Landing Pages
Even after a customer ends up on a landing page, you haven't finished the job. Take the time to understand if:
your copy is generating sales

the layout makes it easy for customers to navigate to PDP, and

your form is causing them to bounce from the page
Cart & Checkout
The critical last steps of your sales funnel, consider some of these variables which may be impacting conversions:
Shipping costs or free shipping option

Additional payment options

Buy now pay later options 

Cart abandonment emails, SMS or push notifications
Performance Optimization
The speed at which your website loads pages and content will impact SEO and more importantly, your customer's shopping experience. Consider the following to ensure your website is operating as efficiently as possible
Page-by-page script optimization with lazy load and defer.

Image optimization including lazy load of photos

Mobile responsive images and content delivery network (CDN)
Post Purchase
Every customer represents an opportunity to re-engage and grow your customer's lifetime value, reach a new community, and collect social proof in the form of ratings, reviews, and user-generated content. This is where you can entice the customer to get upsells, add-ons, and subscriptions.
The Benefits of a CRO Strategy
There's an obvious question for us to answer at this point in our CRO guide: What are the benefits of doing this painful exercise?
Here are just a few. 
More Actionable Customer Insights
CRO and user experience research is an ideal way to learn about how your potential customers interact with your website. The data you get from a CRO strategy won't just inform how you update your website, but it will give you unique insights into how your customers want to use it. 
Better Scalability
The old adage of doing what the data says to do applies here in a big way. Your CRO research and strategy will help you understand what's working and what isn't across your website. Rather than spending your time trying to fix everything, CRO makes it easier to double down on the aspects of your site that customers enjoy, while also helping your sleep at night when you deprioritize the pages they're not interacting with at all. 
Improved ROI
This is probably why you're exploring CRO in the first place. Your ecommerce website can be expensive, and it's incredibly hard to justify the cost if it's not converting. 
Let's do some rough math. We'll say that your "Sale" category landing page is converting at 1% and that it typically generates $5000 in potential sales per month. That could be better. Now imagine that you've done a little CRO magic on that page and you've increased the conversion rate to 3% per month. While that might not seem like a huge jump, that's 300% growth—and more importantly, a huge boost to the pipeline you've created for your ecommerce business. 
Increased Customer Trust
Think about the websites that you visit most frequently. They're probably easy to use, give you what you're looking for, and constantly make meaningful upgrades that improve the already best-in-class experience. Your CRO strategy can have a dramatic impact on the user experience, and in turn, the level of trust your customers have in your ecommerce business. 
The CRO Process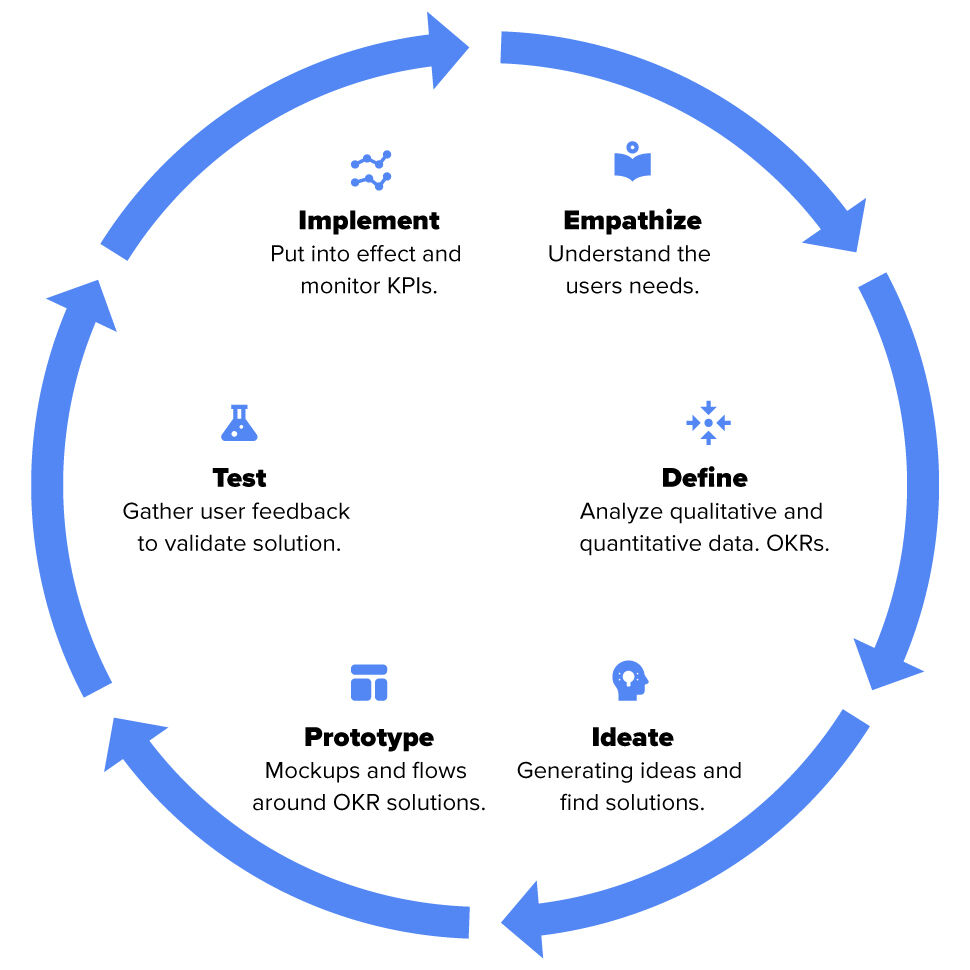 Sold on the idea of building out a CRO process? Us too. But where do you get started, and more importantly, how do you begin? 
Here are a few considerations to start with: 
Audience Research
The ultimate goal of an effective CRO strategy is to improve the user experience so that your audience engages with your site more actively. To achieve that goal, you'll need to understand their biggest pain points when using your ecommerce website—and frankly, any ecommerce website. 
To some degree, you can glean these customer insights through internet research by answering a few basic questions. Here are just a few to consider:
What are your customers' typical pain points (or why are they coming to your website in the first place)?

What are their demographics (age, gender, income, etc.)

Which social media channels do they get their information from?

What types of online content do they consume most?
Most ecommerce and CRO marketing professionals rely on more direct methods to get these answers, including customer surveys and interviews. These methods are typically broken down into qualitative and quantitative research methods. Quantitative methods answer data-heavy, "how many, how often, or how much" questions. Qualitative methods, on the other hand, are more focused on understanding your users' experience on your ecommerce website.
Surveys, in particular, are popular because they're (fairly) easy to put together and enable you to reach large audiences with just a single click in Google Forms or a survey platform like SurveyMonkey or UserLoop. 
Measurement
The beauty of your ecommerce platform is that it enables you to measure just about anything you want. The problem with measuring everything is that, well, you can measure everything. At this stage of the CRO process, it's critical to determine what's worth tracking. 
Most CRO experts like to start with a few hypotheses to test. The folks at OmniConvert explain that a good hypothesis for your CRO strategy is an assumption on which the optimized test variant is based. This works by targeting what you want to change on any given page and predicting the outcome.
Let's say that you think optimizing the copy on your checkout page will increase conversations by 2%. This is a really sound hypothesis, and as you develop your CRO strategy, it's critical to have several hypotheses like this one to ensure that the work you're doing to optimize for web or mobile is moving the needle in the direction your ecommerce site needs. 
A/B Testing
Ah, A/B testing. Another rabbit hole that you could easily get lost in for years. 
A/B testing is a term that describes the process of creating two versions of the same asset and determining which one performs better over time. Both variants are live at the same time. A portion of your audience will see the "A" version and the other will see the "B" version. This enables you to compare how the tweaks you make in your CRO strategy impact conversions across all of your pages. 
In a similar fashion to measuring your CRO marketing strategy, you'll want to choose just a few A/B tests to start. Keep in mind, A/B testing is most useful for measuring the impact of two to four variables. Any tests with more than four variables will take longer to run.
Components of a Strong CRO Strategy
Now that we have the framework for a CRO process, it's time to get our hands dirty and start thinking about tactics. Here are just a few components of a strong CRO strategy. 
Design and Copy
It's one thing to see great design or web copy; it's a completely different thing to create those things. And anyone who has ever tried can tell you it's really hard to get it right. 
From a design standpoint, it's easy to say that your ecommerce website should be appealing. But what does that mean? As part of your CRO strategy, play around with different design elements, or in some cases, a lack of design elements. Some of the most effective e-commerce websites leverage a great deal of whitespace to enable their customers to get where they need to go as quickly as possible.
Web copy can also be a minefield. The best examples make it look easy to write, but we can show you dozens of brainstorming documents littered with lines that will never see the light of day. Buckle up for a lot of iterations on your web copy, but make sure that all of them are simple, scannable, and have clear calls to action.
Site Speed
At the risk of being too blunt, you won't convert on any of your ecommerce pages if your website doesn't load quickly. 
According to Search Engine Journal, your website should load in under three seconds on desktop and mobile devices. If it's not, they suggest a few things to optimize for CRO. First, decrease the size of image and file sizes across your entire ecommerce website. Beyond that, audit your website elements and remove any that are slow to load or redundant. 
Plugins and Apps
One of the larger areas of focus for our team at Sunrise Integration, especially on mobile devices, is assessing and improving site performance by examining potential conflicts between installed plugins and apps, that often add extra code, are slow when incorrectly implemented, or can actually conflict with one another.
Calls to Action
Calls-to-action can really boost conversion rates across your ecommerce website. But if you overthink them, they can bog your site down and make people turn elsewhere. 
You'll frequently see phrases like "Try It Today or "Buy Now."  These are simple, yet have proven to be effective on most (if not all) websites. Still, feel free to take some creative liberties when optimizing your calls to action, and lean on your customer research to understand what tone will resonate with your target audience. Just be sure to keep your CTAs short and concise. 
Site Navigation
Throughout this blog post, we've talked about all the ways you can increase conversions across your ecommerce website. One of the most obvious ways to do that is to make it easier for people to navigate your website. After all, most website builders make it easy to add dozens of pages that you think will drive value for your audience. But before you know it, you end up with…a dozen pages that nobody ever visits.
Most experts agree that ecommerce websites should use what's known as a hierarchical structure. To audit your site navigation effectively, here are just a few things that the Nielson Normal Group suggests considering:
Consider a flatter website hierarchy. As NNG points out, content is more discoverable when it's not buried under multiple layers—and users don't want to dig for the information they're looking for on your ecommerce website. 

Take a deeper look at how your website behaves on mobile devices. The folks at Toptal offer a few mobile UX best practices for ecommerce, including well-labeled forms optimized for mobile and auto-suggestions.

While we're on the subject of auto-suggestions, take a closer look at intelligent search integrations on your ecommerce platform. For example, here's how you can use Algolia to improve search and discovery across your ecommerce website.
Final Thoughts on CRO
It's no secret that your CRO strategy can be a clear differentiator against your biggest competition. It's even less of a secret that CRO marketing is a lot of work. Getting it right takes a lot of time, effort, and patience—and in many cases, it's easy to feel like you'll never get it right by doing it on your own.
Looking for a strong partner to help you build your CRO strategy? Unsure of how to get CRO for mobile phones and CRO for mobile sites (and every other device on the planet) right? Schedule a call with one of our experts.