What is Shopify Magic?
Shopify is getting into the AI (Artificial Intelligence) game with a new rollout called Shopify Magic. According to Shopify, they have plans to enhance various aspects of the platform under the umbrella of Shopify Magic. The first foray into this space is the AI-generated product description tool known as Autowrite. This new feature lets you enter details or keywords about your product and the tool will automatically generate a description based on the product title and details.
The Shopify Magic options will start appearing throughout the store admin signaling the AI-equipped feature. The Autowrite button is currently available within the product section. Does this sleight of hand take the woes out of writing product descriptions? Our ecommerce development team will see how well this new magic plays out.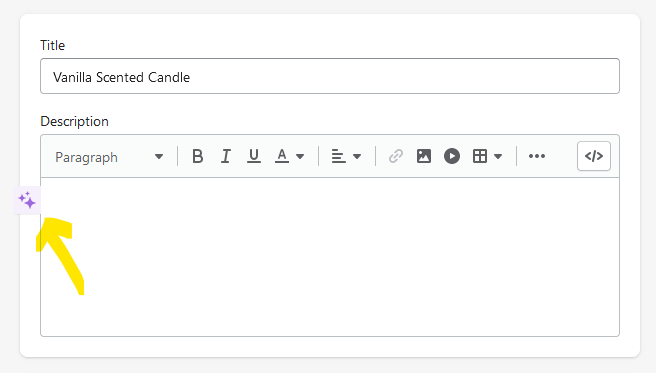 Crafting Magical Product Descriptions
Having good product descriptions is essential for selling online. Quality descriptions help increase sales and improve SEO rankings. For many of us though, the thought of crafting custom text is often anxiety inducing. The Shopify Magic Autowrite feature is here to help alleviate the stress using the power of artificial intelligence. Autowrite uses a Large Language Model (LLM) technology to generate complete sentences from title and provided keywords.
The first step is to provide a list of product features or keywords. Shopify will attempt to utilize these words and apply the concepts to the generated text. The more details that you can provide, the more accurate you can expect the outcome. Autowrite requires a product title and a minimum of 2 features or keywords to generate the text. Based on the information that you input, Autowrite will create new descriptions or rewrite part of an existing description.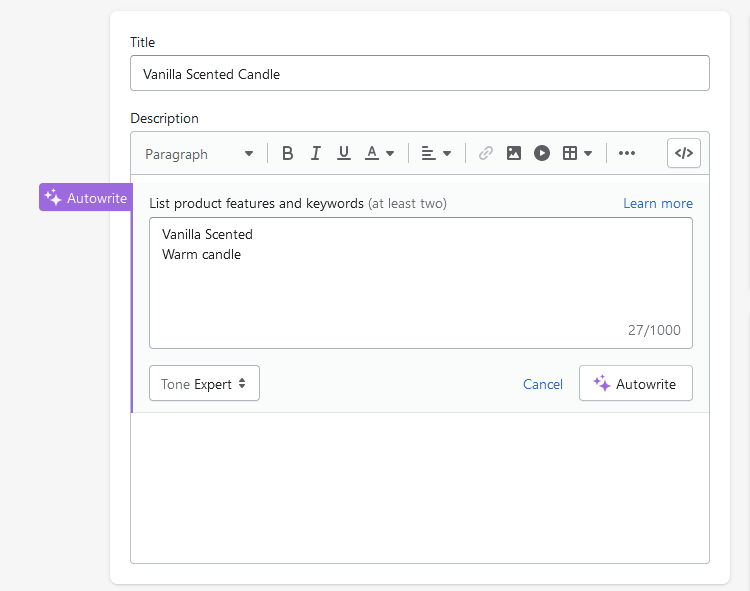 The product title is also a critical component to the algorithm. If the title doesn't explicitly describe the product then the results might not be very accurate. You can use the keywords and features to support the details to help improve the results. The more keywords or phrases you provide, the more accurate and unique suggestions you can expect. Shopify also provides options to craft the characteristics of the content to match the tone of your store.