What is Shopify Markets?
Shopify is rolling out their new global selling features. Shopify Markets is the new cross-border selling tool that helps stores setup, launch, and optimize their international sales. This is a giant leap for local merchants to expand into global selling and opens the door for greater opportunities. In this blog we will preview the setup and options available for Shopify Markets and how Sunrise Integration Shopify team can help your store.

Configuring Your Shopify Markets
Shopify Markets is a new online feature that lets you configure international "markets" to sell merchandise. The service lets you designate "single-country markets" or a group of countries to create a selling market. Each of these markets can have their own local currencies, languages and domains. In addition, you will have a single Primary Market by default which is your main country or domestic region/market. You can create these markets from the new Markets in your Shopify settings.

Adding a Market
To take advantage of Shopify's international shipping, you will start by configuring the locations (i.e. countries) where you want to sell. This is done by selecting "Add Markets" from within the Markets settings. You can name the Market and select the countries contained within that Market. The newly created Market locations will then be available to visitors of your site once you complete the configuration.
Using the Shopify Geolocation App
Shopify provides the option to use multiple domains for each of your Markets or you can use an app to handle translations. If you're not using separate domains for each country, Shopify provides and option to prompt customers to select their country when they land on your site, thus creating a localized shopping experience complete with language and currency options. This prompt is handled via Shopify's free Geolocation app. The Shopify Geolocation app recommends the best country and language for your store's visitors based on their browser settings and IP location. Store visitors will be shown a pop-up on your home page where they can choose their location.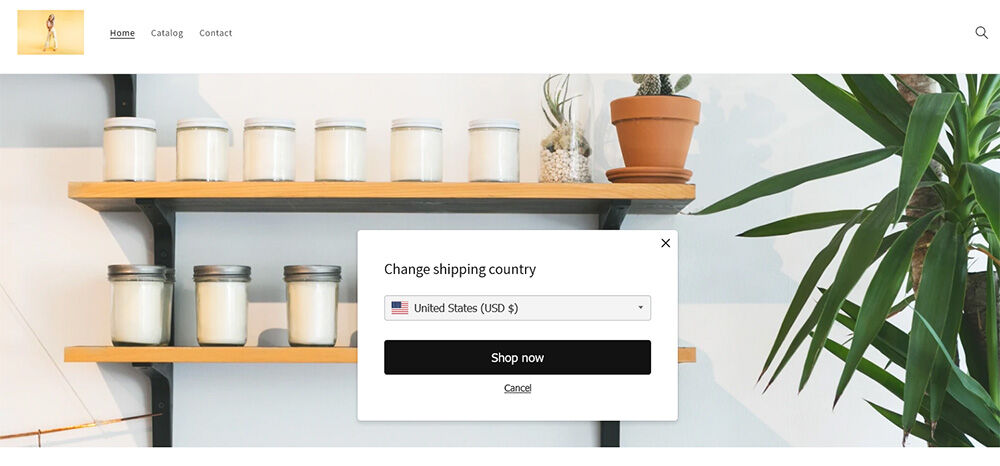 Customers will see prices, pay for orders, and receive refunds in their local selected currency. The Shopify Market platform will convert the funds automatically using the current market exchange rate.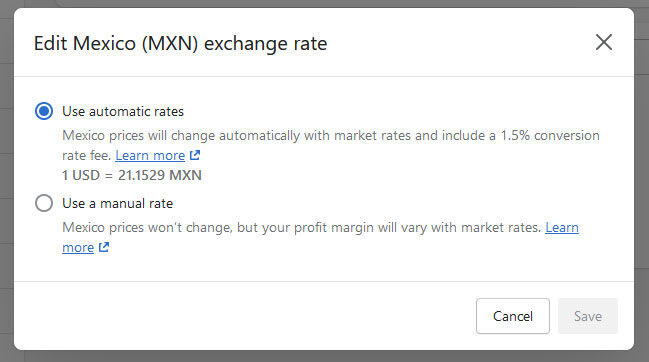 Configuring Automatic Exchange Rates
Selling internationally means dealing with currency exchange rates. This is often a difficult and time-consuming process. This headache is a thing of the past with Shopify Markets. Your store's prices are automatically converted to your customer's currency. The prices will automatically change when exchange rates fluctuate. Shopify applies a conversion fee to the rates. A manual rate setting is available for customers on Shopify Advanced or Shopify Plus. This allows store owners to lock in a fixed rate and not worry about fluctuating rates. Shopify provides a setting where the merchant can configure their desired exchange method for each market.
Selling in Multiple Languages
Shopify Markets allows the store owner to enable multiple languages from the Shopify admin. This will create separate URLs within your store for each of the translated content. For example, if you create two additional languages, French (fr) and German (de), then two domain URLs are created for yourdomain.com/fr and yourdomain.com/de. When customers visit the translated URL, the localized version is automatically displayed. These translations can be created automatically using a third-party app from the Shopify app store.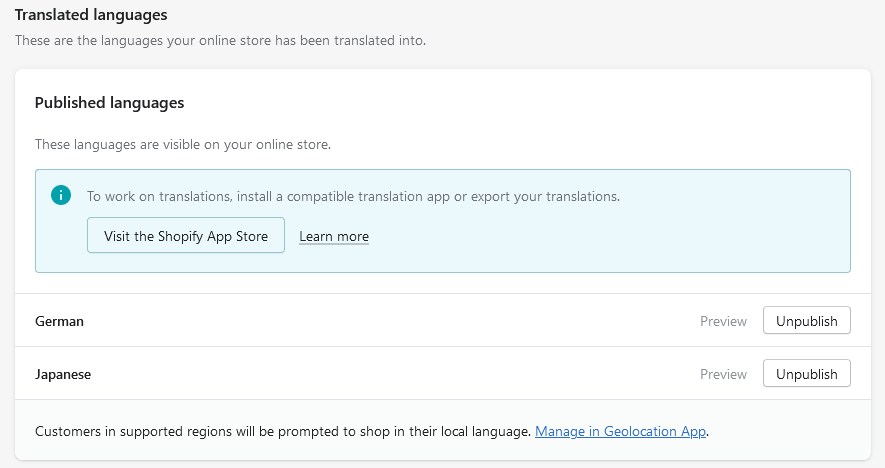 Another option is to manually import the translations via a CSV file. In the manual option, you must provide the translated content yourself for each desired language. This allows you to manage the language translations without the use of a third-party translation app.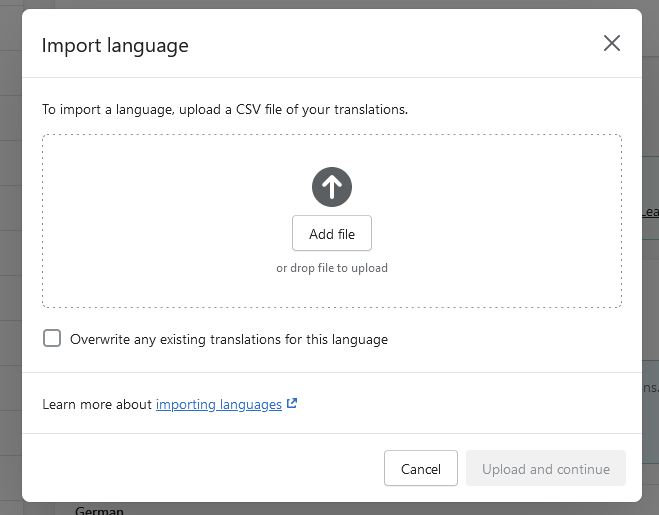 Collecting Duties and Taxes
When shipping internationally, the end-customer can incur additional duties and import taxes upon receipt if the duties are not properly calculated. Shopify Markets helps with the calculation of these fees to ensure all duties and taxes are properly captured during checkout. Merchants using Shopify Advanced or Shopify Plus can automatically calculate and collect duty and import taxes during checkout. Stores that are not on Advanced or Plus must use a third-party app to calculate the duties and taxes. Shopify Markets lets you select those countries where you need to handle the fees.

To provide accurate duty estimates for international customers, your products need to include the country of origin and the HS codes. The HS code is used in international trade to describe the product. Inaccurate or missing country of origin or an incorrect HS code, might result in additional duties being charged to the customer upon delivery. Shopify provides settings for each product where you may enter the COO and HS details.
Shopify Markets Makes Global Shipping Easier
International selling has always been tricky due to currency, duties and shipping. Shopify Markets aims to fix these problems with a single solution for international pricing, multi-languages and currency conversion. You can now optimize your international sales and create a better customer experience to reach a global audience.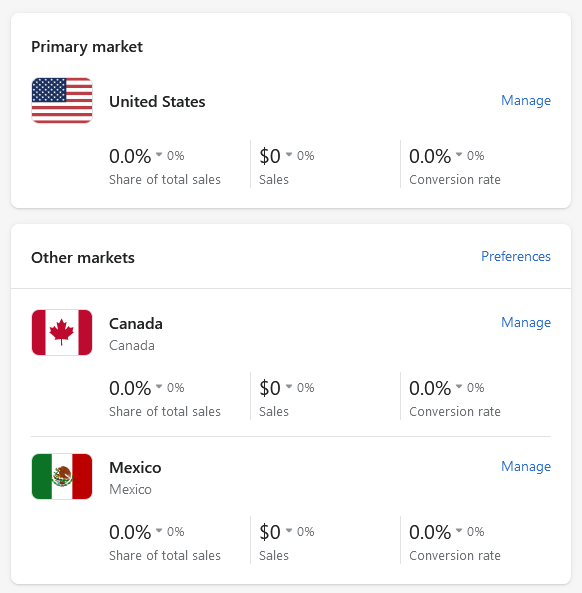 Sunrise Integration Will Help You Go Global
Understanding international shipping and duties can get tricky, however the experts at Sunrise Integration are here to help. Our experienced team can configure your Shopify store and get you up and running with Shopify Markets.