New UI for Shopify Apps
Shopify is always working on updates to the user interface and  today Shopify launched a new method for navigating your Apps. The update includes the ability to pin your favorite apps to the left-bar for quick access. Let's review the changes and the new UI for working with Apps.

A New Way to Find Your Shopify Apps
"Where did my Shopify apps go?" That's a question many Shopify store owners are asking themselves today. The updated user interface moved the apps into the Settings page while utilizing the search bar to access apps. This is a jarring change at first, but once you get used to it, you'll find it convenient to have search capability for your apps. Now, when you click on the Apps link, your list of apps will appear within the Search bar. You can search the list or scroll down to find your apps. If you have a long list of apps, the instant search allows you to simply enter/type to find your app.
Once you launch your app, Shopify will move it into the left side-bar of your Shopify Admin. It's now accessible from the Admin page, including the internal navigation of the app. This makes interacting with the app much faster.

Pin Your App For Quicker Access
One useful change is the ability to pin apps to the side bar. By pinning an app, you can quickly access it without having to enter the Apps page. It's the perfect solution for frequently used apps and services. You can even pin multiple apps to help improve your daily workflow. Note, apps that open into a new browser window can't be pinned to the side bar. Only fully embedded apps provide this feature.

To unpin an app, click the pin icon at the top of the app header. You can always find the app again using the search bar or the left sidebar navigation. You can also pin an app by dragging it to the side bar after opening it.
So Where Is My Shopify App List?
Okay, but what if you still need to see your app list or custom apps? Don't worry, Shopify moved the old interface into the settings area of the Shopify Admin.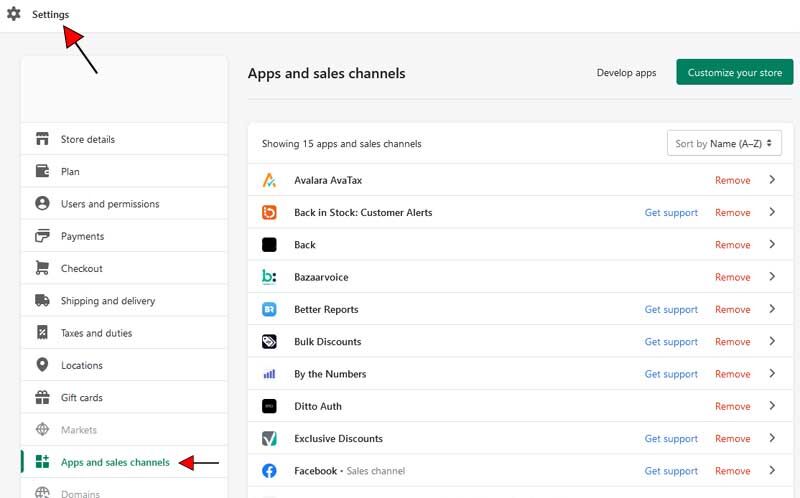 A Better Way To Access Your Apps
At first this change may seem like a pain, however once you get used to the new flow, you will see how useful it is to search and pin apps. Your daily workflow will improve by pinning frequently used apps for quick access. Pinning apps will save the multiple clicks that were previously required.
The Sunrise Integration Shopify Team likes the new change and is already saving lots of time using the new pinning capabilities. The integrated search is also really helpful for those shops with lots of app. Give it try, we think you'll like it.