What is Shopify Markets and Global Selling?
As a custom Shopify app developer, we are often asked to integrate with international markets to ensure a global customer reach. It has been tricky in the past to handle local currency, pricing and language issues. Shopify has now made this a thing of the past with the release of Shopify Markets.
Shopify is rolling out a big update for cross-border sellers called Shopify Markets. Merchants can now manage one global store while creating localized storefronts for different countries. International customers can now shop on your store in their local currencies, languages and payment methods. Store owners will appreciate the automatic calculation of duty and import fees import fees. Reaching new international customers is now easier than ever and it's available right from your Shopify store.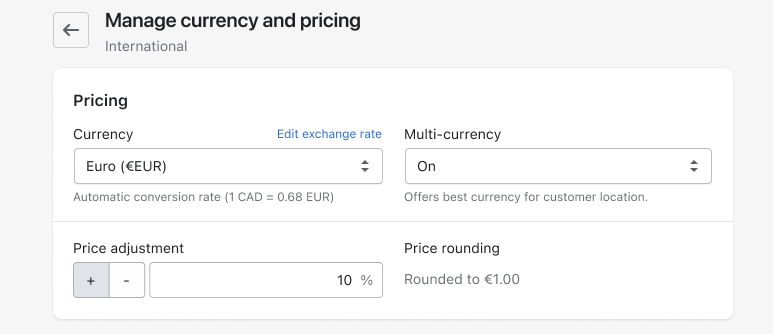 Shopify states that the global ecommerce market will grow to $6.3 trillion by 2024. This opens up a great opportunity for online sellers around the globe. You can put your products in front of millions of new potential buyers. Customer experience is the key to strengthening your cross-border sales. Unhappy customers will just leave your site and you won't know why. Giving your customers a localized and logical shopping experience will yield to repeat business. Shopify Markets is here to help with these issues.
Create localized experiences
Getting into international selling has always been difficult due to language, currency and logistics issues. It can be an expensive and time-consuming process to localize text and deal with currency exchange rates. Shopify is here to fix those problems with Shopify Markets.
You can now make it easier for international customers to browse and buy in their native language and currency. Shopify Markets will feature 133 local currencies through Shopify Payments. Everything is calculated automatically so you don't have to worry about a thing. International customers will see pricing on your store in their local currency and you will be paid in your local currency. Shopify will do all the conversions and math for you. You will also gain access to international secure payment methods that match local expectations. This will take the guesswork out of international purchases and lead to more checkouts.
Don't worry if you don't speak the language because Shopify does. You can translate your store content into 20 different languages so your international customers can shop comfortably. You can even use custom international domains so your customers will feel confident they are in the right store. All of this means more conversions and more sales for your store.

If you're on Shopify Plus, you can expect even more great features like the collection of duty and import taxes at checkout, custom pricing per market, custom storefronts per market, international fulfillment locations and more. Shopify Markets makes selling globally a breeze.
How does it work?
While it was possible to sell internationally before, Shopify has streamlined the experience. You no longer need complicated apps or currency conversion. We've helped many clients with complicated international shipping developments so we're interested in using Shopify Markets to make the experience easier for all. To start, Shopify created a new dashboard in the admin to consolidate the fetaures. Store owners can access all this right from the Settings area of their Shopify Admin portal.

From within the settings, you can manage your currencies, languages, domains and payment methods. Shopify Plus merchants will have access to additional configuration for duties, pricing controls and location specific settings. For example, you can route French orders to ship from your EU warehouse so customers will only see the inventory in their location.
Need help with global cross border selling?
The global retail market is huge and if you're an online seller you want a piece of those sales. Shopify has made it easier than ever to take advantage of global customers and Sunrise Integration is here to help you configure your store. Please contact us if you need help with cross border selling or Shopify Markets.