Adding product subscriptions to your store has grown in popularity. Allowing your customers to purchase a subscription plan opens weekly, monthly, or yearly access to your products, builds brand commitment and provides recurring revenue for your store. Use Recharge to kick start your store's subscription services and turn transactions into long-term customer relationships.
Recharge was designed to let your store offer subscription products with a few clicks. You can start selling subscriptions in minutes. Let's walk through the journey of setting up Recharge for your online store. The process is quick and only involves a few simple steps:
Install and set up your Recharge App

Add products with subscription information and frequency

Customize settings to bring your brand style into the subscription process.

Customize and publish the Recharge subscription widget.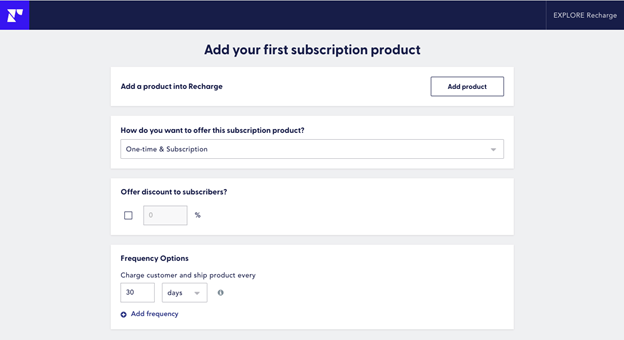 Install and set up your Recharge App
Recharge works with all the major ecommerce stores like Shopify, Bigcommerce, and Magento. All of the platforms feature a simple app install to get you started. Once you install the Recharge app in your store, you can begin the onboarding flow. Start by filling out your store details and answer some simple questions. The Recharge app needs the details of what you are selling so the system can transfer the items to Recharge. You start by setting up your first product. There are three options for products:
One-time and Subscription which allows customers to by the item as a one off or as a recurring subscription.
Subscription only will only allow customers to purchase the product as a recurring subscription.
Pre-paid subscription only allows customers to pay for their subscription at a different interval than the product shipment.
You can set a discount for the subscription to offer customers an incentive for signing up for a subscription that works especially well when offering One-Time and Subscription products.
The frequency will set the time between the shipments, this can be set to a certain number of days, weeks, or months.  You may also set multiple frequencies to allow your customers to choose how often they want the products to ship.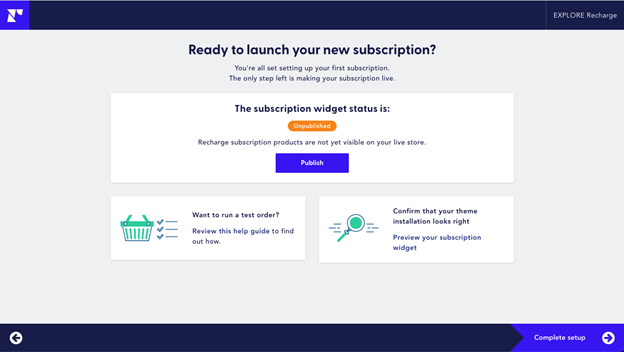 The last step of onboarding is to publish your subscription widget to your site and complete the onboarding process. After the completion of the onboarding process you will be presented with a checklist that will help you work through some of the initial set ups to get your Recharge working in tip top shape.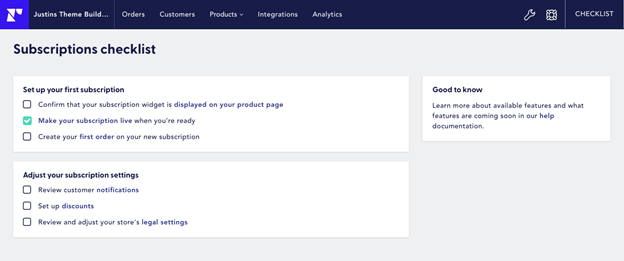 After setting up your first product you can review the subscription widget on your store front. Click the link to open a window to preview your subscription widget.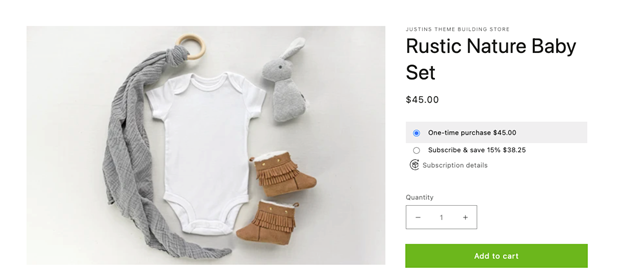 Once your store is showing your subscription options, it's a good idea to place a test order. Making test orders allows you to verify that everything is working and verifies that the set up was done correctly. Once you verify that the purchases are working, you can finish setting up the rest of your products.
Adding products to Recharge is an easy process. You can add multiple products by clicking the "Add products" button and selecting all the items you would like in the popup. After you add them, you can set the frequency and subscription type. There you can choose to add a discount if the items are one-time and subscription items.
You can find Recharge settings like customer notifications using the drop-down menu by clicking the wrench in top menu. You can modify these settings to match your brand and requirements.
Once integrated into your website, the Recharge subscription payments solution allows you to create long-term relationships with your customers.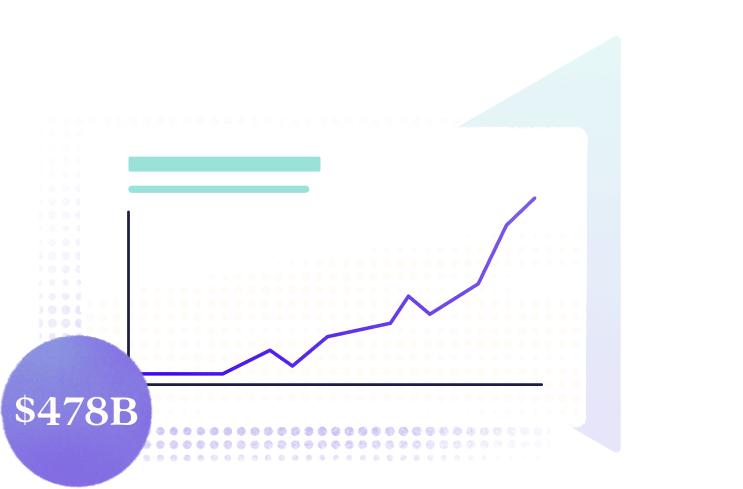 Need help integrating Recharge with your ecommerce site? Let the experts at Sunrise Integration get you up and running. Just contact us now to launch your subscription needs.