A New Initiative to Give Back, Powered by Team Members
The pandemic has created enormous challenges for businesses and individuals alike. Sunrise Integration has been fortunate to weather the storm by working together with our amazing partners, clients, and employees to achieve more success than ever. Unfortunately, there are many businesses and people around the world that aren't so lucky.
It's more important now than ever to come together and show kindness and generosity to others in tough times. So last year, in the spirit of the holiday season, we decided to make a donation to the LA Food Bank to give back to the community and do our part in supporting those in need. 
We asked ourselves, "Why not turn this into an initiative and continue giving back?" Thus, Sunrise Gives was born.
Every month, a member of our team chooses a charity that's close to their heart and Sunrise Integration will make a contribution to that organization. We're so excited to support mission-driven organizations that are making a positive impact in the lives of those that need it most.
In addition to a monthly donation, we plan to do in-person volunteer events in conjunction with local non-profit organizations and find other ways to give back to our local community.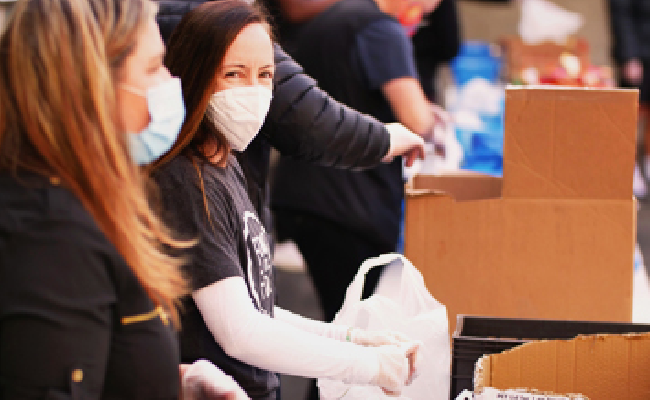 Kicking Things Off with April's Charity
An integral part of the team since 2017, Stephanie Smith consistently delivers excellent client service, ensuring that all projects move smoothly from discovery to launch as Project Manager.
This month, Stephanie gets to choose the charity that will receive a donation through Sunrise Gives. It wasn't a difficult decision for her. "I've personally seen an increase in the homeless population; it's very noticeable and it simply breaks my heart to see," she says. 
That's why we're going to donate to Food on Foot, a nonprofit dedicated to assisting our homeless and low-income neighbors in Los Angeles with nutritious meals, clothing, and a fresh start through a life-skills education, full-time employment, and permanent housing.