With 22 years of invaluable technology experience, Sunrise Integration is a custom enterprise development company that has touched the lives of countless ecommerce businesses and high profile brands. Our goal is to help your business, regardless of size and industry, succeed and bring tech solutions to life.
Located in the heart of Los Angeles, California, we've expanded our client base to different locations around the globe. This commitment to helping our clients has earned us their trust.
Thanks to their wonderful help, Sunrise Integration finally made its debut on Clutch, a respectable B2B review and market research platform. The site connects potential clients with the best service providers, publishes extensive content, and highlights client reviews.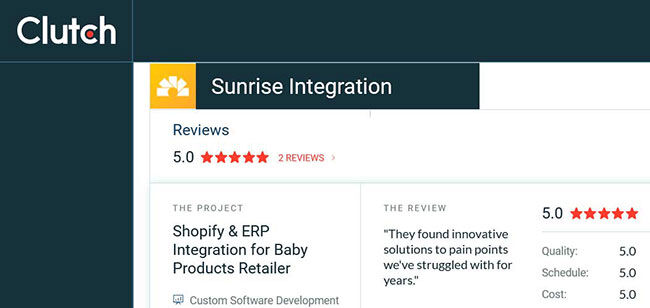 For our inaugural reviews, two of our previous clients wrote their in-depth insights regarding our past projects together. Both reviews boast five-star ratings across the boards — pricing, project management, quality, willingness to refer, and overall satisfaction.
Madeline Seyler, the digital marketing and e-commerce manager for 4moms, featured our Shopify and ERP integration efforts. Meanwhile, Matt DeLeva, the owner of Hyperion Chiropractic and Acupuncture, wrote about our all-around web design, development, and branding efforts for their business.
Both reviews were published on the platform last month, and we made sure everything ran smoothly for both engagements. Take a look at some quotes from their feedback:
"Sunrise Integration was able to work with our ERP consultant to solve pretty much any curveball we threw in their direction. We were able to launch on schedule. They found innovative solutions to pain points we've struggled with for years." — Digital Marketing & E-commerce Manager, 4moms
"I loved the way our website came out. It made me proud of my business. I appreciate them for creating it. We get tons of bookings through our website. Without it, our business wouldn't be as successful. I have even had a patient schedule with me because they liked our font." — Owner, Hyperion Chiropractic and Acupuncture
Great reviews like these validate the hard work we do. Even if we're already a tried and tested team, we always appreciate what our clients have to say. We don't stop chasing continuous improvement, and their insights allow us to do so.
Visit our vendor profile on Clutch to learn more about these amazing projects. See for yourself why our clients gave us five-star reviews.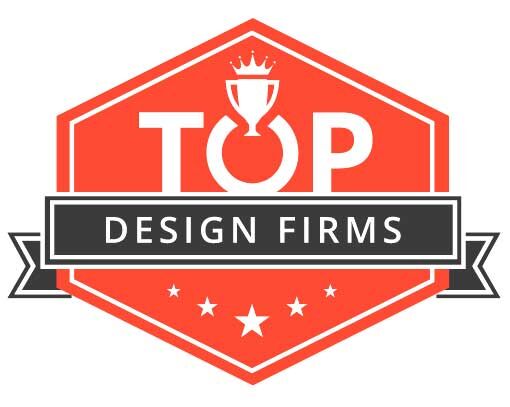 In other news, Top Design Firms' verified research found that Sunrise Integration is among the top players in the B2B space. For those who don't know, Top Design Firms is a B2B platform that curates comprehensive content to help browsers navigate through the tech, design, and marketing spaces.
According to their page, our company is among Los Angeles' finest mobile app developers for 2021. This is welcoming news to us. We wouldn't be this proud of a company without the support of our clients. Big thanks to everyone who stood by our sides throughout the ups and downs.
Start scaling your business with Sunrise Integration. Don't be a stranger and drop us a line to tell us more about what you need.