What is Google Analytics 4 (GA4?)
Google Analytics 4 (GA4) is the latest version of Google's analytics service. Google Analytics is a critical part of any ecommerce development as it tracks and reports website traffic, user behavior, and other key performance indicators. GA4 is the successor to Universal Analytics (UA), and it provides a more comprehensive approach to understanding user behavior across different platforms and devices.
On July 1, 2023, standard Universal Analytics (UA) properties will no longer process data and all services must upgrade to version 4 or risk losing data. This upgrade affects all connected platforms like Shopify. If you're a Shopify merchant, then you need to act now.
Upgrade Shopify Before July 2023
Google Analytics is an important service for any Shopify store. Merchants use Google Analytics to gain valuable insights into site performance, user behavior and marketing effectiveness. Shopify store owners use Google Analytics to review traffic and make decisions to improve their stores. It's a critical part of understanding how customers are using your store.
Starting July 2023, Google Analytics will stop processing UA data streams so all Shopify merchants should upgrade to the new GA4 service. The first step is installing the Google Channel App on your Shopify store. You will be prompted to install it (if you haven't already) if you're trying to upgrade. To upgrade and make the most of GA4, Shopify store owners should:
Create a new GA4-specific property in your Google Analytics account

Link GA4 to your Shopify store via the Google Channel app.

Add the GA4 tracking code to your Shopify store

Transition from Universal Analytics
Once you have GA4 in place, it's a good idea to review the collected data to ensure everything is flowing properly. It a good idea to regularly review your GA data to identify trends, patterns, and areas for improvement in your Shopify store. Shopify store owners can gain valuable insights that can drive better decision-making and improve overall store performance.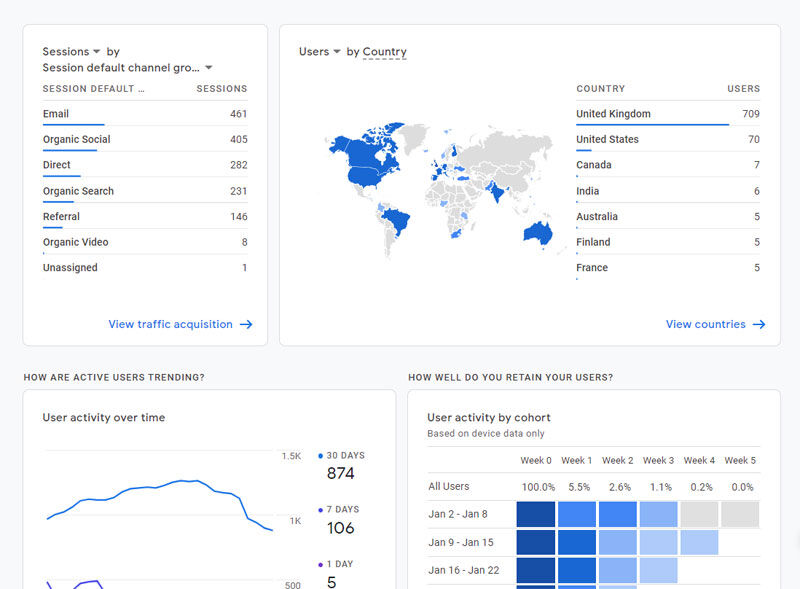 What Do Shopify Stores Get With GA4?
Shopify store owners can make informed decisions using Google Analytics based on user data. With this information, merchants can improve their store's performance, increase customer satisfaction, and grow sales. Here are some ways Shopify store owners can utilize Google Analytics:
GA4's event-based tracking model allows Shopify store owners to gain better insights into user behavior. This can help you understand how customers interact with your store, from browsing products to making purchases. The improved reporting can help you identify trends and patterns in user behavior throughout your store.
If you support a Shopify store and a native mobile app then GA4 can track data across both platforms, providing a more comprehensive view of user behavior. This can help you optimize the user experience and marketing strategies across different devices.
GA4's built-in privacy features help Shopify store owners comply with data protection laws like GDPR and CCPA. By implementing consent mode and granular data settings, you can ensure that user privacy is maintained while still collecting valuable data.
Shopify store owners can set up custom events and conversions in GA4 without modifying the tracking code. This simplifies the process and allows you to more easily track specific actions like product clicks, add-to-cart events, or form submissions.
GA4 offers better integration with Google's machine learning and AI capabilities, such as automated insights and predictive analytics. These features can help businesses discover trends, anomalies, and opportunities, making data-driven decision-making more efficient.
The Time to Upgrade is Now
While GA4 has many advantages over UA, it's important to note that there may be a learning curve involved in transitioning and upgrading to the new platform. Businesses should allocate time and resources for training and familiarization to ensure a smooth transition and make the most of GA4's features. Google is phasing out Universal Analytics, so the time to upgrade your Shopify store is now.
If all this sounds too daunting, then reach out to the Shopify experts at Sunrise Integration and let our ecommerce team help you get upgraded.