We want to share some exciting news that will leave a lasting mark on the ecommerce world…
Sunrise Integration, Shopify and Mad Engine Global, a leader in graphic and licensed apparel, have partnered up to launch the Marvel Design Collection app!
Why is this such a newsworthy development? Marvel is the first major entertainment company to curate a lifestyle catalog for the millions of Shopify merchants, who can now officially sell licensed Marvel lifestyle products to their customers. Think t-shirts, sweaters, mugs, phone cases and other products adorned with the iconic characters that we all know and love.
Marvel Design Collection - Powered by Mad Engine
Our partners at Mad Engine Global will manufacture and distribute the officially licensed products, paying tribute to Marvel's Super Hero icons. In fact, they're no strangers to Marvel and have previously collaborated with them 20 years ago. Danish Gajiani, CEO of Mad Engine Global says, "We're thrilled that two decades later, our relationship continues to thrive and we're now able to work with Shopify and its merchants to help introduce the Marvel x Mad Engine Global collection to a new set of vendors."
Thanks to our rich history of developing on the Shopify platform for enterprise companies, Mad Engine Global and Shopify enlisted the help of Sunrise Integration to build, design and optimize the app from the ground up. With it, Shopify merchants are able to:
Add officially licensed Marvel items to their store

Automatically process orders in the app

Receive tracking and automatically update customers

Adjust product markup for optimal profits

Pay for merchandise easily through the app

View all payments and transactions
Needless to say, we can't wait to see what Shopify merchants will create with it!
The Marvel Design Collection app is available now for download in the Shopify App Store.

Disrupting the Licensing Space
Working with the team at Mad Engine, Sunrise Integration is excited to bring direct access to licensed merchandise for all Shopify merchants. Now anyone with a Shopify storefront can quickly and easily install the Marvel Design Collection Shopify App and have access to officially licensed items.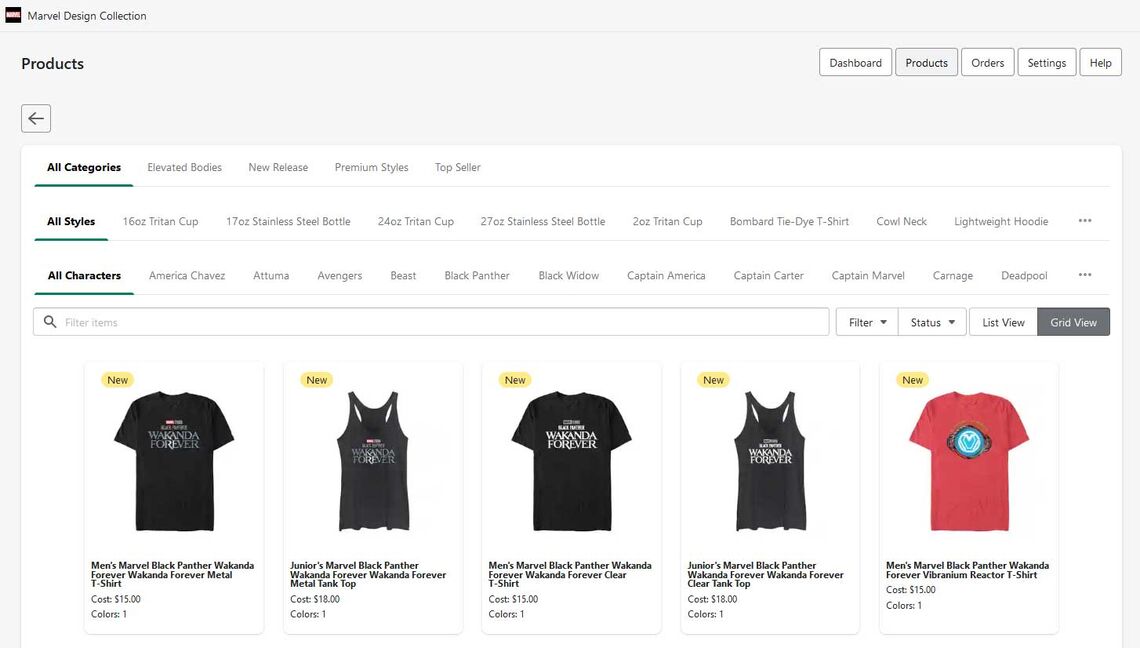 With a simple click, merchants can add any item directly into their Shopify store. Products are automatically detected by the app during checkout and orders are routed to Mad Engine for manufacturing and shipping. Tracking numbers are updated in Shopify and sent to customers. It's fast, easy and fun. With the instant name recognition and fan-favorite characters, the Marvel Design Collection app is poised to distrupt the licensed space and will quickly rise to one of the top apps in the Shopify App ecosystem.

App Development Experts
Sunrise Integration is proud to partner with Mad Engine to bring the Marvel Design Collection app to Shopify. With over 22 years of ecommerce development experience, Sunrise Integration is looking forward to even more collaborations and exciting app launches on Shopify.
If your business is looking for a development team to get your Shopify app up and running, our team is here for you. We know what it takes to launch enterprise services and applications.