Are Your Customers Finding What They Want?
We've all become conditioned to the search wizardry of Google–anything less feels lacking. Google has billions of dollars to spend on high-speed servers and fancy databases. How can your Shopify ecommerce store compete with that? With Aloglia, that's how.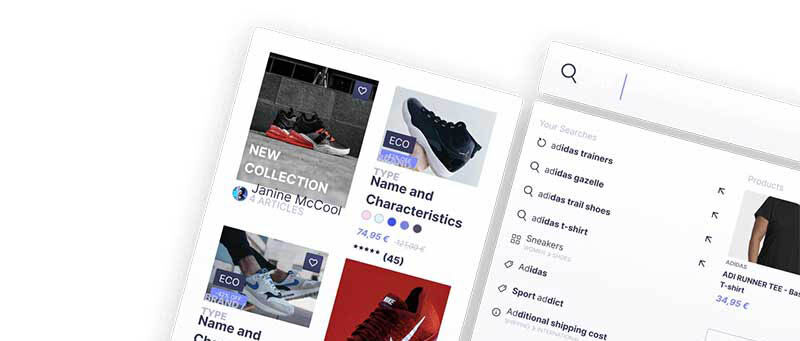 What is Algolia?
Algolia is a hosted search and discovery platform that delivers fast and personalized e-commerce experiences across web and mobile. Algolia has a suite of tools built for Shopify that optimize search and merchandising. Algolia's enterprise search connects customers to the right content on your store. Using a little integration magic, you can connect your Shopify site to Algolia's powerful API services and unlock the powerful search features. When our Shopify customers want to take their search to the next level, we turn to Algolia to power their store.

Improve Your Shopify Search
If you need an enterprise search solution for your Shopify store, then Algolia is what you want. The Sunrise Integration development team has helped numerous clients integrate Algolia with their ecommerce sites to improve their store's search results.
Algolia connects to your Shopify product catalog and collections to provide an improved search experience. The Algolia Shopify app actively syncs new products with the backend Algolia cloud platform. This sync ensures that your Shopify search is always up-to-date. Anytime a customer searches your site, the Algolia integration takes over and the backend power is unleashed. Algolia has 70+ data centers on 6 continents with ultra-fast, reliable results. Algolia serves 80+ billion search queries per month.
Integration With Your Shopify Store
Using the Shopify app or a custom integrated solution, Algolia connects to your Shopify store and analysis the products data to create snapshot in the cloud. The embedded Shopify app will detect your theme and allow you to connect the Algolia platform to your Shopify search pages.

Easily bring search autocomplete, typo tolerance, synonyms management, filters and facets, and many more to your customers, and search fields.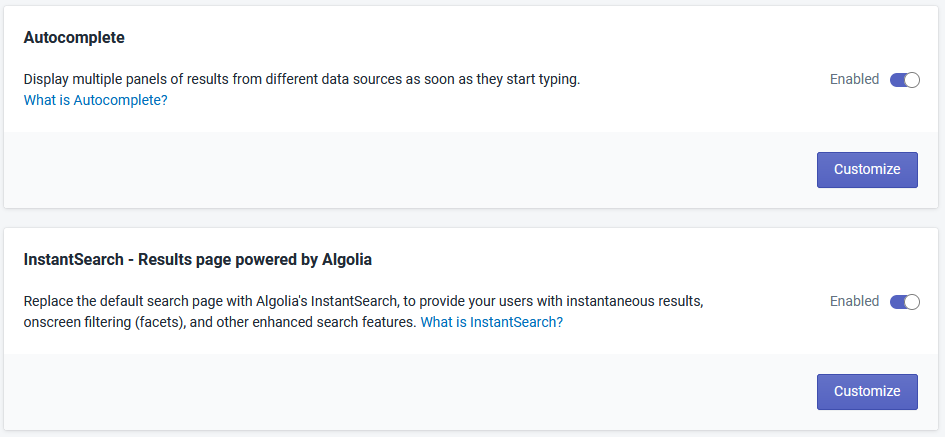 How Does It Work?
Once Algolia is integrated with your Shopify store, the app will synchronize with your products and Collections to ensure everything stays up-to-date. Algolia structures your data through a process called indexing. An index is a special way of listing your data to create a super-fast object for searching.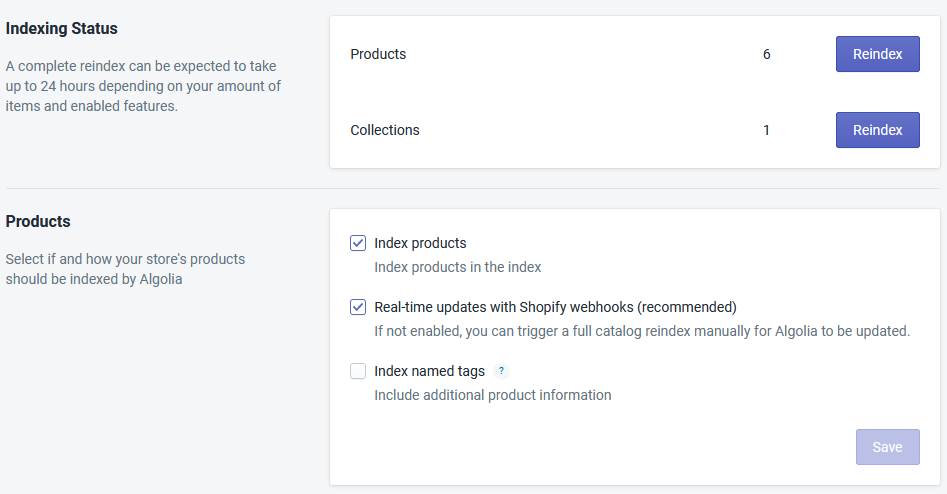 An index is automatically created in the background to speed up search querying. Using this index, search queries can quickly lookup the requested data. Algolia is constantly updating your site's index to ensure the latest information is available to access items quickly and efficiently.
Analytics for Your Search
Because Algolia gathers search-related analytics and captures data with every search conducted on your site, you'll gain provide powerful insight into your store. With Algolia Analytics, you can understand what your customers are searching for, what filters they use, and what searches return no results. You can then use these insights to improve your product catalog, update your SEO strategy and fuel merchandising initiatives. You can see if your products are properly represented, whether the correct products show up in your search results, or if you have too much of one result.

Implement Powerful Search with Algolia
Algolia is such a powerful ecommerce search solution that we've only touched the surface of what it can do for you! If you want to improve your Shopify, mobile or app search, our Algolia Development team can build an enterprise solution for all your needs.