What is the Dawn theme and Shopify Online Store 2.0?
During Unite 2021, Shopify announced several great new features called Online Store 2.0. These new features include improvements that make themes and apps more flexible and easier to use. At the heart of Online Store 2.0 is the new Dawn theme. Dawn uses JSON templates and supports section blocks on all pages—that's a fancy way to say that merchants will now enjoy more flexibility and ease in building their stores. We've already used Dawn to develop new merchant stores and so far, it's great. Let's dive deeper into the Dawn theme.
Now you can easily add new sections to most pages on your site, and quickly add or remove sections directly from within the Shopify theme editor. Every section has modular components that you drag and drop into place. There's no need for complicated code editing to handle basic changes. Dawn was built for speed and ease of use. The Shopify development team focused on minimizing the use of JavaScript to boost page loading speeds. Shopify's metrics show that Dawn is scoring 98+ on Google Page Insights / Lighthouse. Dawn is fully compatible with desktop and mobile viewports so everyone can take advantage of the speed boost.
More control for your pages
The new Dawn theme expands content creation to all pages of your theme. With Dawn, you're no longer limited to a small subset of pages and have the power to edit everything. You get complete control over the Product page, Home page, Cart, Blogs and more, while enjoying WYSIWYG capabilities on all sections. Simply drag blocks and enter text into form fields, no coding required. You even gain access to the awesome new Metafields feature for adding dynamic content to your pages. The Dawn theme comes with flexible blocks for images, products, video, quotes, and is available now for all Shopify merchants.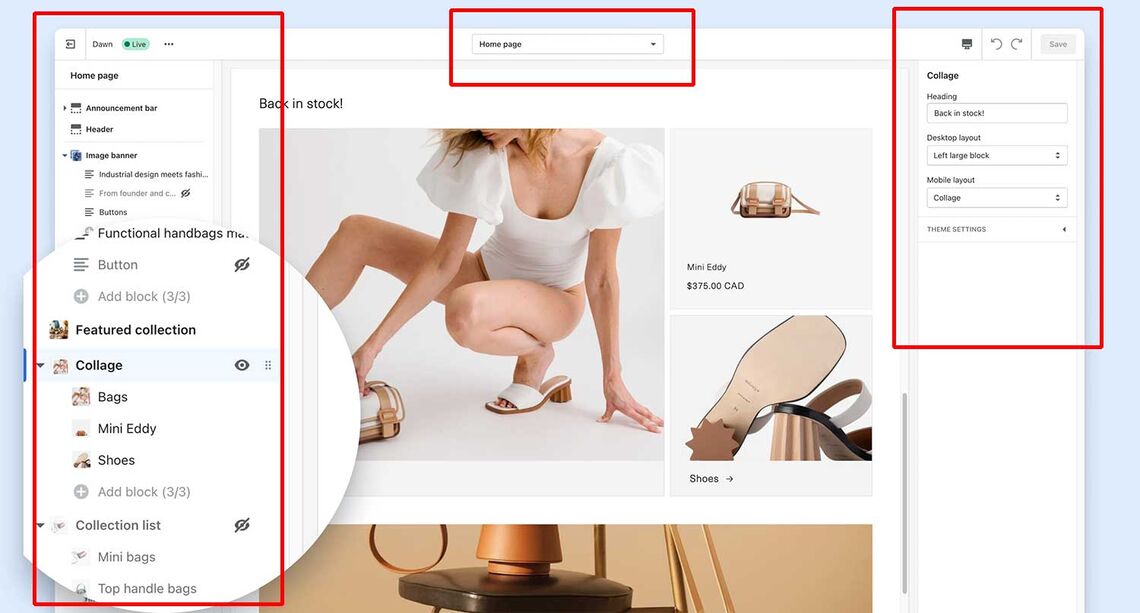 Dawn is part of Shopify's Online Store 2.0. 
During Unite 2021, Shopify released a new theme architecture called Online Store 2.0. This new architecture includes Sections on every page, app blocks, dynamic sources and Collection filtering. Online Store 2.0 is a boon for developers. Shopify included new developer tools and features to create amazing experiences for merchants. Developers can now build flexible, dynamic theme Sections that install and uninstall right from an app using App Blocks. Previously, developers had to juggle liquid and manual code insertion to include custom theme content. Now the App Blocks and Sections can be dynamically inserted and removed, making clean-up a breeze. This will make app trials much easier for store merchants as orphaned code is no longer left behind.

Utilizing the new Online Store 2.0 features will require merchants to upgrade to the new Dawn theme. Older "vintage" themes will still work, however, they cannot utilize the new features. Online Store 2.0 is the direction Shopify is heading so store owners should jump on board and take advantage of the new features.
Developers have the power to create flexible designs
As a Shopify Plus development agency, we can instantly see the power and speed of Shopify's Online Store 2.0 features. We are now able to create custom themes while providing flexible  administration capabilities for our clients. Using the App Blocks opens the door for robust app development that includes fully customizable sections that are installed along with the app. We're already converting clients over to Dawn and the speed improvements are quickly evident.
We will explore more Online Store 2.0 features in future blog posts and videos. Stay tuned for more!
Contact us if you need help developing your theme or other Online Store 2.0 features.