Personalization is the name of the game in B2C ecommerce. It's not enough to just get people on your website. With so many brands vying for your customers' attention, you need to make them an offer they can't refuse, so to speak. There are many ways to increase customer retention and loyalty, but Rebuy is a one-stop shop that allows you to do it all.
Simply put, Rebuy is a robust platform that allows Shopify merchants to get their customers to buy more. More specifically, it offers a variety of tools to increase average order value (AOV), lifetime value (LTV), conversion rate optimization (CRO) and return on ad spend (ROAS). Let's dig deeper into the platform shall, we?
What is Rebuy?
Shopify merchants love Rebuy because they can use it to create personalized omnichannel shopping experiences through upsells, cross-sells and post-purchase follow-ups. The platform tailors the UX to each visitor's unique shopping patterns. For example, offering customers deals on bundles when they add certain items to their cart or notifying them that they're only $10 away from free shipping.
What makes it unique is that it uses AI to provide merchants with recommendations on increasing AOV and improving the cart and checkout processes overall.
The Benefits of Rebuy
Now that you know a little bit about Rebuy, you're probably wondering if it's worth it to implement it into your business. Absolutely! Here are the main benefits of integrating Rebuy with your Shopify store.
Increase Average Order Value (AOV)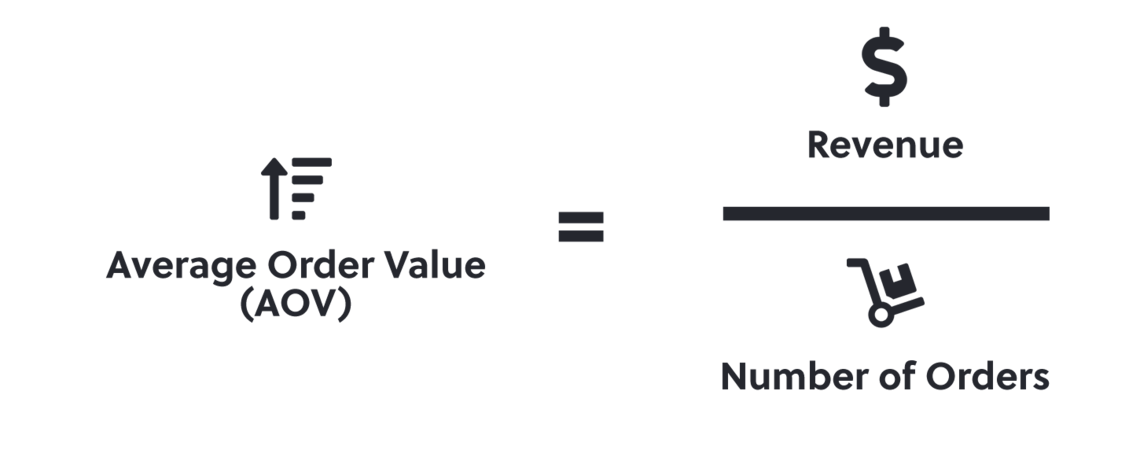 Rebuy allows you to get creative in nudging your customers towards buying more. You can increase AOV using Rebuy and its AI in many ways–it comes down to presenting your customers with options that suit their buying habits and preferences at the right time.
Cross-Selling and Upselling: With cross-selling, you show customers complementary products that go along with their current purchase. Use upselling to promote a more expensive version of the product or a subscription. Implementing both tactics capitalizes on your customers' "buy now" mentality and subtly encourages them to spend more.

Make Smart Product Recommendations: Cross-selling and upselling work best when they're implemented using solid data. Use your store's historical sales data to place smart product recommendations in the shopping cart.

Offer a Free Shipping Threshold: No one likes to pay for shipping. If your customers are a certain amount of money away from free shipping, let them know! 

Offer Limited Promotions: Limited promotions create a sense of urgency in your customers. Not only will they buy now or in the near future, they'll likely add more items to their cart.

Show Savings on Bulk Orders: People often feel guilty about making large purchases. You can encourage your customers to buy in bulk by showing how much they can save on each item on their large order.

Offer Bundles (Package Deals): Have products that would go well in a bundle? Offer savings when your customers buy certain items together–It's a quick way to get them to buy more.
Offer a Gift With Purchase (GWP): Who doesn't like free gifts? If you offer a free gift to your customers when they reach a certain amount in their cart, it will encourage them to purchase more items.

Create a Loyalty Program: Your business will be rewarded for rewarding customer loyalty. Not only will a loyalty program keep customers coming back, but they'll also make bigger purchases from brands they trust and love.

Show Reviews and Ratings: Customers are more likely to trust your products and brand when they see positive reviews from other customers. Always ask your customers for reviews, and show them on your website to encourage others to make purchases.
Increase Lifetime Value (LTV)
Not only do you want to increase how much your customers spend at one time, but you also want them to keep making purchases for the long term. A loyal customer is golden. Plus, we all know how much easier it is to keep a current customer than it is to try to gain a new one.
Offering personalized recommendations that show you understand your customers and making the overall buying experience pleasant and fun go a long way in increasing LTV.
Understanding that strengthening customer retention is more important now than ever, Rebuy has built several post-purchase widgets to help merchants increase LTV: 
Post-Purchase Offer: Reward your customers for making a purchase. 

Thank you Page Offer: Say thank you to customers with an enticing offer.

Reorder Landing Pages: Drive repeat purchases and turn one-time buyers into lifelong customers. 

Reactivate Landing Pages: Win back subscribers who have cancelled their subscriptions in as little as one click.
Increase Conversion Rate Optimization (CRO)
It's never a bad time to think about how to improve your CRO (number of purchases / number of total visitors). Personalizing the shopping journey at every step of the way makes it enticing for customers to buy, and buy more often. Simply determine which area(s) of the customer journey are key conversion opportunities and ensure you get the right offers to the right people at the right time.
Maximize Return on Ad Spend (ROAS)
How effective are your advertising campaigns in generating revenue? ROAS is the ratio between the revenue generated from an ad campaign and the amount spent on that campaign.
Even if you create great ads that prospective customers want to click, that's only half the battle. You need to ensure that your website seals the deal. With Rebuy, you can place personalized, high-converting upsells and cross-sells anywhere in the on-site customer journey. There are several solutions to ensure that shoppers are receiving timely and engaging product offers that convert:
Custom cart drawer with in-cart cross-sells, gift with purchase, and tiered rewards functionality

Use customized marketing links to drive traffic to exclusive, on-site product offers – these can be used in social media campaigns, marketing emails & texts, and more 

Post-Purchase offers help to reduce expenses by consolidating multiple orders into one, increasing your ROAS
Because Rebuy product offers are highly personalized and designed to be high-converting, you can have confidence that your ad dollars are money well-spent, thus improving your ROAS.
Notable Features of Rebuy
Check out the specific features and tools that Rebuy offers Shopify merchants to make all of this possible.
Sales automation
Selling is a breeze–just let Rebuy's AI do most of the heavy lifting for you. Offer hyper-relevant upsells, cross-sells, and automated order follow-ups to automatically increases sales and order values for your Shopify store. 
No-code or low-code technology
Whether you're a developer, marketer or a non-technical founder, Rebuy prides itself on being user-friendly, making it easy for you to implement its features into your Shopify store. And should you decide that you want to, you do have the option to write some custom code as well.
Smart Cart technology
Rebuy's trademarked Smart Cart technology is one of its most, if not its most, impressive features. It allows you to easily customize and optimize carts with an intelligent all-in-one tool that functions as a shopping cart replacement for Shopify.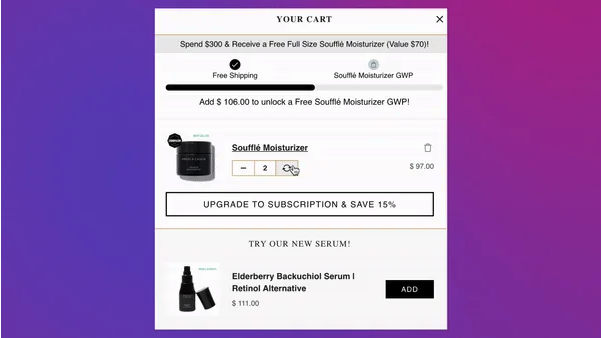 With it, you can implement many tactics that will increase customer loyalty and your bottom line such as increasing AOV through personalized cross- and up-sells, encouraging larger purchases by shoppers to qualify for free shipping through stylish visual prompts and using countdown clocks to create urgency at the point of sale.
Re-order landing pages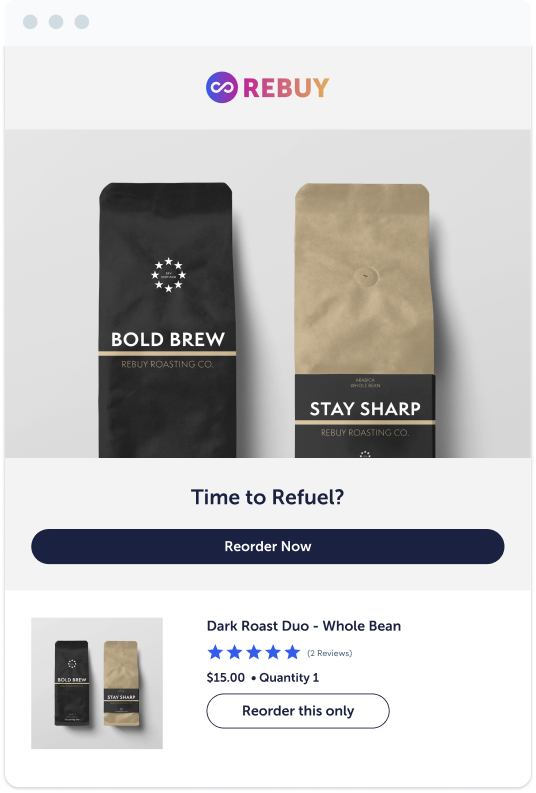 Re-order landing pages drive repeat purchases and turn one-time buyers into lifelong customers. Offer seamless, one-click subscription options, intuitive UI/UX that marks a clear path to repeat purchases, relevant marketing messages and more.
Check-out extensions
We all understand the importance of the checkout page. It's a critical part of your strategy to decrease cart abandonment and increase AOV. Rebuy's Checkout Extensions are AI-powered widgets you can apply through drag-and-drop straight into the Shopify Checkout to offer complementary products based on your customer's cart, shopping behavior, store data and more. And the best part is that you can set all this up within a matter of minutes.
Marketing links (Smart Links™)
Give an extra nudge to your customers by driving them to pre-populated carts and checkouts with auto-applied discounts. Using Rebuy's shareable links is a seamless way to help increase conversions and AOV for your Shopify store.
Built-in conversion tracking
See exactly how well your widgets are performing with real-time in-app reports at every touchpoint. With accurate data in your hands, you can figure out where to double down or make improvements to ensure your customers are happy.
Full customization
Customize every detail, including cart design, merchandising, types and placement of widgets, product recommendations and more. You can also take the plug-and-play route using pre-built product recommendations. Or do a combination of both.
Make Rebuy Part of Growth & Rentention
Ready to supercharge your Shopify store's bottom line and customer loyalty? Reach out to our data integration experts to learn more about how you can harness the power of Rebuy in your ecommerce business.
Our Growth & Retention Services use Rebuy to create personalized shopping experiences based on your customers' unique shopping patterns. If you're looking to retain customers and boost your AOV, let us integrate Rebuy with your Shopify store. Contact us today to get started!