Introducing Shopify Markets
Shopify is making global selling easier than ever with Shopify Markets. This new tool helps merchants offer and sell their products in different countries. Store merchants can host all countries right from their store while offering localized experiences for their global customers.
These new features let store owners create markets that target specific regions, or groups of countries. Our Shopify development team is excited for the opportunity that Markets will bring to our clients.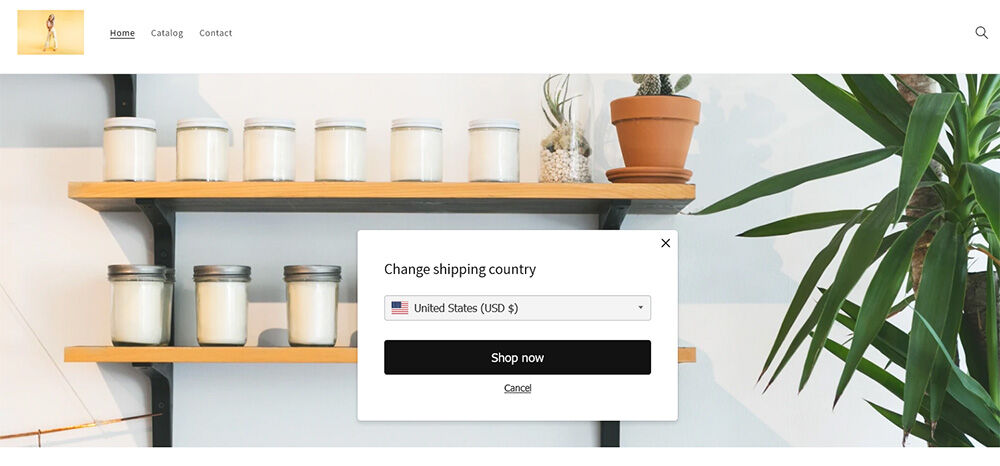 Selling Globally is Now Easier
Selling globally is not without its challenges. Dealing with currency exchanges, duties and shipping makes managing international orders tricky. Our development team has been working for years to help our clients overcome this headache. Shopify is hoping to solve these issues with its new global selling tool. Shopify Markets is now available for all Shopify stores. If you're a Shopify merchant, look for the tool in the Settings page of the Admin.

With Markets, your customers will see prices and pay for orders in their local currencies. Shopify Markets automatically handles the price conversions using the current exchange rate. This feature alone solves one of the biggest headaches with international currency.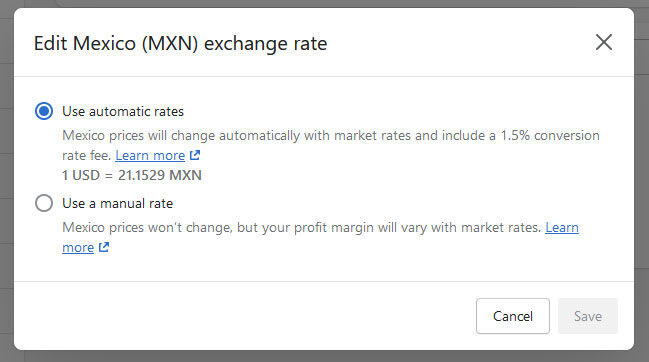 The Cost of Using Shopify Markets
So how much does it cost to access these amazing features? Surprisingly, not much. To start, your store must be using Shopify Payments to process orders. Markets is currently only compatible with Shopify's payment source. When you configure your store to sell in multiple currencies, Shopify will charge their normal Shopify Payments processing fee and an extra currency conversion fee. The currency conversion fee is the amount Shopify charges to handle the conversion when a payment is captured during an order. This fee is 1.5% in the US and 2% in all other countries. It's important to note that these conversion fees and credit card fees aren't returned when you issue a refund so you may need to consider this before you launch globally. Refunds and chargebacks can negatively affect your bottomline so it's a real concern when dealing with new international customers and potential scams.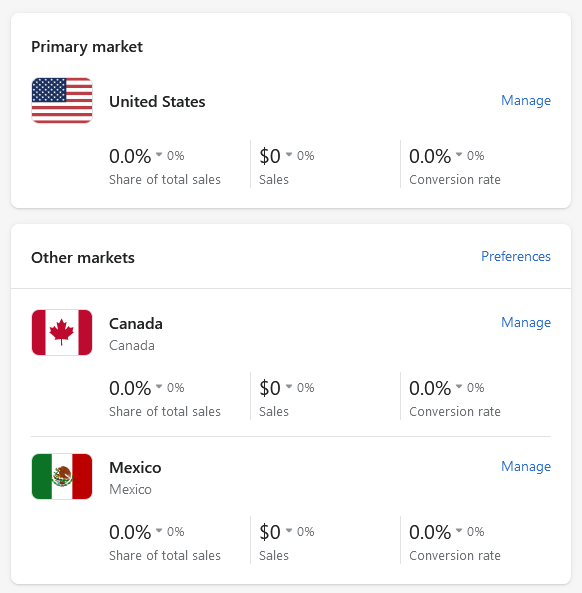 Configuring Shopify Markets
Our logistics team has been helping clients overcome the hassles of selling and shipping internationally for years. We have experience dealing with duties, taxes, shipping rates, currency and more so we were excited to see this new Shopify feature. As a Shopify Plus development agency, we have been using and monitoring the rollout of Shopify Markets for a few months. So far it has proven to be a comprehensive and powerful tool for going global. Keep in mind that some of the enterprise features are only available for Plus stores.
Selling and shipping globally come with an extra layer of business considerations. It's important to configure your store and pricing accordingly or you may end up losing money on currency exchange, shipping fees and additional duties.
If you're ready to start selling internationally, we're ready to help configure your Shopify Markets for optimal performance. Our experienced team will ensure your store is ready for the new challenges of going global.