Shopify Improves B2B Features
Check out our new Shopify B2B Video Tutorial and blog.
B2B (Business to Business) sales are an important part of many businesses' strategies. B2B sales differ from traditional B2C sales as they often require more specific configurations. B2B targets more challenging demographics so your sales process needs to cater to this added complexity. Shopify's new B2B features attempt to bridge these requirements.
For many years, Shopify provided the Wholesale Channel for merchants who needed B2B features. This month Shopify finally unveiled its new B2B features that improve the Wholesale features and provide a more integrated environment (this is only provided for Shopify Plus plans). Let's take a look at these new features and the process of configuring a new B2B store with Shopify Plus.
Shopify B2B Tutorial - Using the B2B features with your Shopify Plus store
Adding a Company to Your B2B Store
The first step with any B2B store is to enter the companies with whom you are doing business. The Shopify B2B features now provide a "Companies" page where you enter the full details of each company including all business details.

You can add the company name, address, price list and payment terms. Companies can even have multiple locations, each with separate payment terms, pricing, checkout options, and shipping addresses. This is a great feature for any business that has multiple physical locations across the country. You can group each of these locations under a single company. Companies cannot be imported just yet, so it's a manual process to configure them. We expect Shopify to update this soon and allow for CSV imports.
Custom Price Lists
One of the most critical components of a B2B site is the custom pricing. Your B2B clients expect pricing discounts or product-specific costs for their company. Shopify now allows you to configure custom price lists for each company and each location. The configuration is accessible from the Shopify Plus Admin under the Products page.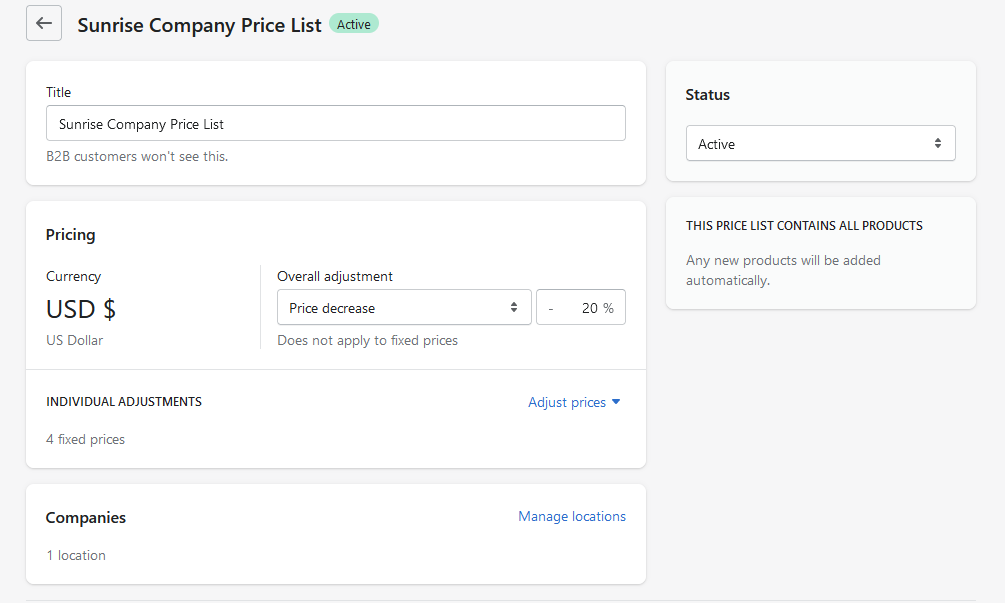 You can set a global discount (or increase) for all products in your catalog. You can then further customize the pricing on individual items. Any fixed prices for individual product or variants will override the global percentage adjustment. All of the pricing customizations are applied only to the specific company location that you assign. Your B2C prices are not affected by these configurations.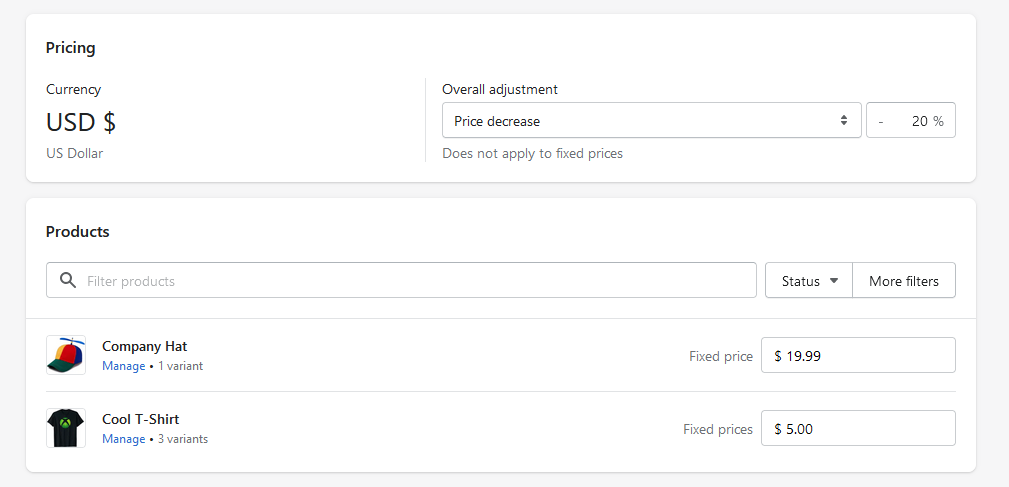 To make pricing easier, Shopify allows you to import a CSV to update pricing. A sample CSV template is provided with sample products and pricing to help you get started. Once you're done configuring the pricing for each company location, you can export the pricing and receive a copy via email.
Multiple currencies are available using Shopify Markets. Using Markets is the easiest way to support global B2B as prices in your store, cart, and checkout will reflect the local currency per your Markets configuration.
Adding Customers to The Company
Now that you've created a company, location and a price list, you need to assign customers to that account. You can create, or assign existing customers to the company right from the Companies configuration page. Any customer that you create will only have permissions for the specific location you assign. Shopify currently only supports a maximum of 10 customers per company so hopefully they increase this limit soon.
Once you create the customers they are able to login to the store. This process has also slightly changed for B2B customers.

New No-Password Login Process
Shopify's B2B update provides new features to the Admin, however it also brings changes to the frontend store. Customers can now expect a new login method to access the store. This method is simply called, "New customer accounts" versus the "Classic customer accounts." B2B customers are required to use the new password-less process. If you plan on utilizing the new B2B features, you must enable this new customer feature in the "Checkout and accounts" section of the Settings page.
The new process does away with the need for a password. A customer will now simply enter their email address during login and receive a six-digit verification code.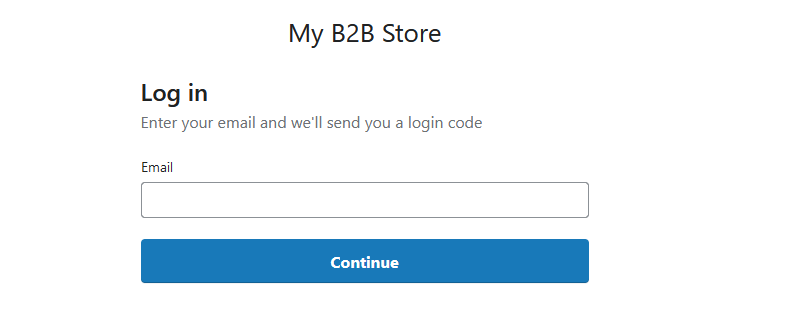 Customer Login Code
When a B2B customer logs into your store, they're prompted to enter a six-digit verification code that is sent to their email address instead of using a password. This is part of the new customer accounts that are required to utilize the new B2B features within your store.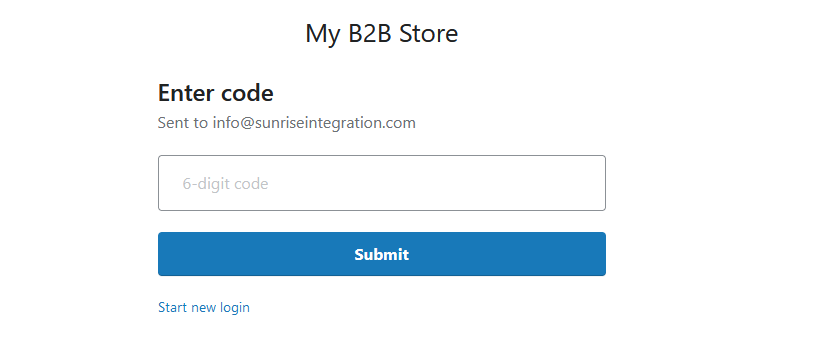 After they enter their code, they're taken to an account page, which displays their account information and order list. The B2B Account page has a new simplified layout and shares all orders with the main company account.

B2B Checkout Changes
When a B2B customer goes through checkout, Shopify will pre-fill their details from the B2B account. This information can't be edited during the checkout process. This data comes from the company and user details within the B2B account. If a customer needs to change their shipping or billing addresses, they can do so before checking out.

Providing Payment Terms
One of the most common requirements for B2B sales is the utilization of net terms. This allows the purchaser time to provide payment for the merchandise. This is very common in B2B sales and Shopify now provides a native solution.
By default in Shopify, a company's payment terms require the customer to pay immediately upon checkout. In a B2B world you'll need to provide payment terms for each company. You can now assign custom terms, Net 30 or Net 15 for example, and have those payment terms reflected on the checkout page. If you assign terms to a location, then any customer can pay for orders up to the due date.
After the order is placed, the Orders Admin will display the terms and allow for payment collection via manual process or by providing credit card information.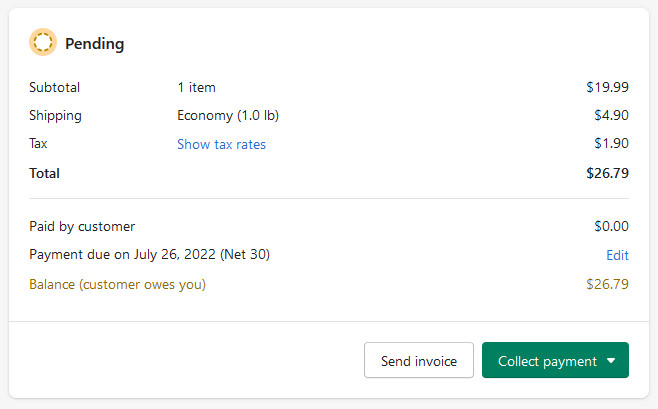 Any company order that is completed with payment terms, will display a, "Pay now" button within the customer's Account page. The terms and due date are visible for each individual order.

Dedicated B2B Store
Shopify will allow you to configure your store for B2B + B2C, or just B2B customers only. There is a setting within the Online Store Preferences to restrict the access to only B2B customer accounts. The store will allow both types by default.

B2B Limitations
Since this is a new rollout for Shopify, we expect certain features to be absent at launch. Here are a couple of important features that are not yet available at present time:
Customer cannot be changed on a B2B order

Tipping at checkout is not available

In-store pickup features are not active for B2B

Local delivery is not available

Draft Orders are not yet available for B2B

Customization using checkout.liquid are not applied to B2B checkouts.
Some of these are more critical to certain customers so it's important that you partner with an expert development team to ensure your store has what you need at launch.
We're a B2B Development Partner with Experience
Check out our new Shopify B2B Video Tutorial and blog.
B2B sales can be tricky, however, they are often more lucrative for a company. B2B sales tend to be larger in value, making them more important to the seller. If your business is conducting B2B sales, then you need to an experienced development partner to help get your store up and running. Let our Shopify Experts work their magic!